WASHINGTON (JTA) — Benny Chukrun, speaking in Hebrew on a wind-whipped day outside the Israeli embassy in the U.S. capital, had a message for his fellow protesters.
"We have a special role in Washington. We have access to the Jewish opinion leaders in the United States," he said at a rally on Sunday opposing far-reaching changes planned by the new government in Israel, including a proposal to limit the power of the country's judiciary. "We have to leave our comfort zone and act."
Israeli expatriates have been coming together in cities worldwide in solidarity with the tens of thousands who have gathered every Saturday night in Tel Aviv and elsewhere to protest Prime Minister Benjamin Netanyahu's far-right government. Rallies have taken place in New York City, Washington, D.C., Chicago, Toronto, Los Angeles, Miami, Vancouver, Sydney, Berlin, Paris and London, drawing crowds ranging in size from 50 to 200. This weekend, the protests in North America took place on Sunday to accommodate demonstrators who observe Shabbat. 
It's new and at times intimidating territory for Israeli expatriates. Israelis in America  were once known to keep a low profile in Jewish communities due to a stigma associated with leaving Israel. That sense of shame has faded as growing numbers of Israelis have relocated to the United States for work in the tech sector or other fields. Overseas travel and communication have also grown far easier. More recently, Israeli political activists in the United States have become best known for supporting their country publicly via organizations such as the Israeli-American Council.
The group organizing many of the rallies, UnXeptable, formed in 2020 to demonstrate in solidarity with Israeli protests against Netanyahu. Now, the mandate has broadened to oppose the actions of the Israeli government. That change has sparked familiar anxieties among Israelis in the United States: Are they harming Israel's public image? Do they have a right to criticize their home country now that they have moved outside of its borders?
These questions populated multiple WhatsApp groups ahead of this weekend's protests, said Kathy Goldberg, 57, an Israeli American who helped organize the solidarity protest in Evanston, Illinois, a Chicago suburb.
"There were fears of it looking, 'anti-Israel,' fears of antisemitism, that it will look like we're piling on Israel and giving them more ammunition, when in fact these are people who love Israel and believe that right now this is the most pro-Israeli thing we can do, to help protect Israel as a democracy,'" she told the Jewish Telegraphic Agency.
What helped Goldberg and other Israelis overcome those fears was the role that they feel Israelis living abroad can play in explaining to Jewish communities why it's OK, this time, to come out and protest. At the rally outside of the Israeli embassy, Chukrun pointed out that Israeli Diaspora Minister Amichai Chikli just traveled to the United States to defend the government's proposals. 
"Chikli was here a while ago, trying to persuade the conservative Jewish funders of Kohelet that the revolution underway is not antidemocratic," Chukrun told the 50 or so Israelis who met outside the embassy, referring to the Kohelet Forum, an influential Israeli right-wing think tank that is leading the charge in advocating abroad for the new government.
"We can give the opposing voice, we must give the opposing voice," he told the crowd, which responded with murmurs of agreement. "Whoever has friends in Jewish organizations, reach out. We must explain to them what is going on. There is a lot of ignorance, misunderstanding."
The Israelis who are protesting, both in Israel and abroad, are reeling from a barrage of potential changes. The issue with the highest profile has been a proposed reform that would significantly weaken Israel's judicial review and change the way judges are appointed. Groups of protesters also oppose government pledges to annex West Bank territory to Israel, restrict the rights of LGBTQ Israelis and expand police powers — particularly in relation to Israeli Arabs.
"A lot of [Jewish] Americans say,'What's the problem? Here [in the United States], politicians pick judges,'" said Chukrun, 62, who works in educational tech. "They don't understand that [in the United States], it is just one part of an overall structure of checks and balances, and you can't just take one aspect of the state of Israel that is already a democracy standing on chicken legs."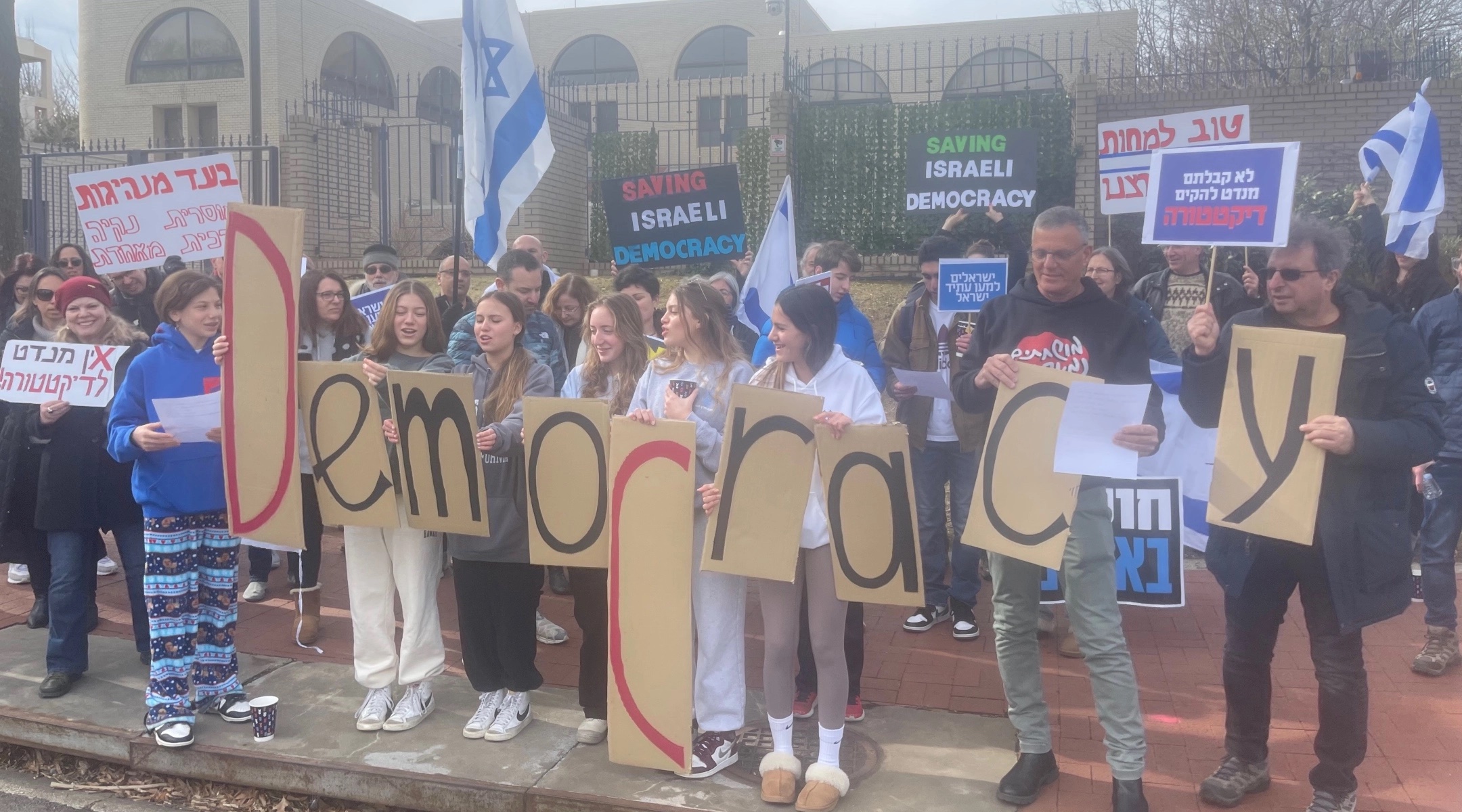 Expatriate Israeli protesters outside the Israeli embassy in Washington, D.C., Feb. 5, 2023. (Ron Kampeas)
Image by
Etai Beck, a Silicon Valley entrepreneur, told the crowd at the San Francisco protest that the Jewish Diaspora had a moral stake in speaking out now. He framed his speech as a true/false test. Like Chukrun, he criticized the Kohelet Forum as well as Israel Hayom, a free right-wing tabloid in Israel that is funded by Miriam Adelson, wife of the late casino magnate and Republican donor Sheldon Adelson.
"The Jewish people outside Israel are not allowed to express their opinions and join the protest: False," he said in his remarks in English, which were shared on WhatsApp with other protesters. "One, Israel was established as the worldwide Jewish center. Two, the Jewish people worldwide lobbies and supports Israel — in Congress, in the media, in day to day life."
To the degree that Israeli Americans have had a public profile until now, that profile has leaned right. The Israeli-American Council, funded to a large degree by the Adelsons, has served as a forum for Republicans in recent years; it was one of just two Jewish groups that Donald Trump agreed to speak to as president, and he used the occasion to mock American Jews for not supporting Israel enough. The protests IAC organizes typically defend Israel's sitting government.
Shay Bar, 38, who attended the Los Angeles protest with his family, said the concerns of Israelis abroad in this instance stretched beyond partisanship.
"Our solidarity from abroad is for the future of Israel and our future here in the Diaspora," he said. "If Israel's democracy erodes, that will directly affect Jewish and Israeli life and in the Diaspora."
At the Washington rally, protesters held up massive Israeli flags. An older man, speaking Hebrew, asked a group of teenagers holding up letters spelling "DEMOCRACY" in English whether they were aligned properly, and they collectively rolled their eyes and said, in English, that yes, they were. The protest ended with a rendition of "Hatikvah," the Israeli national anthem.
Protesters in San Francisco made light of an old Israeli warning not to "wash one's dirty laundry" abroad. "We learned from Bibi [Netanyahu] to wash our dirty laundry overseas," said a poster in San Francisco, a reference to Netanyahu's wife Sara's habit of loading her flights with dirty clothes because she preferred laundry service overseas.
"Some of us here are here temporarily, some not so much," said Yoni Charash, 47, a lawyer wearing a T-shirt bearing UnXeptable's logo. "We all go visit, we have a connection, those of us who leave Israel are not cut off from Israel."
Nor were they cut off from the larger Jewish communities they live in, said Chukrun. Times had changed since Israelis arriving in the United States kept to themselves because they were alienated by the synagogue-centric life of American Jews.
"Jews in the United States feel the Judaism of faith and Israelis feel the Judaism of national identity, the Israeliness," he told JTA. "There is a cultural difference, but in recent years it's begun to change."
Bar in Los Angeles said Israelis are likelier now to assimilate into American Jewish communities than not. "We're Israeli Americans who live within the community, we send our kids to school with a Jewish education, go to synagogues on holidays and are an integral part of the American Jewish community," he said.


Chukrun, speaking to JTA, said it was critical to leverage the relationships Israelis had with American Jews.
"We have to explain that it's not the land of the patriarchs and matriarchs, not the land of the Bible," he said. "It's a real country with real people — with ugly things."
This article originally appeared on JTA.org.
The post 'We have to leave our comfort zone': Cautious but determined, Israeli expats protest Netanyahu's government appeared first on The Forward.