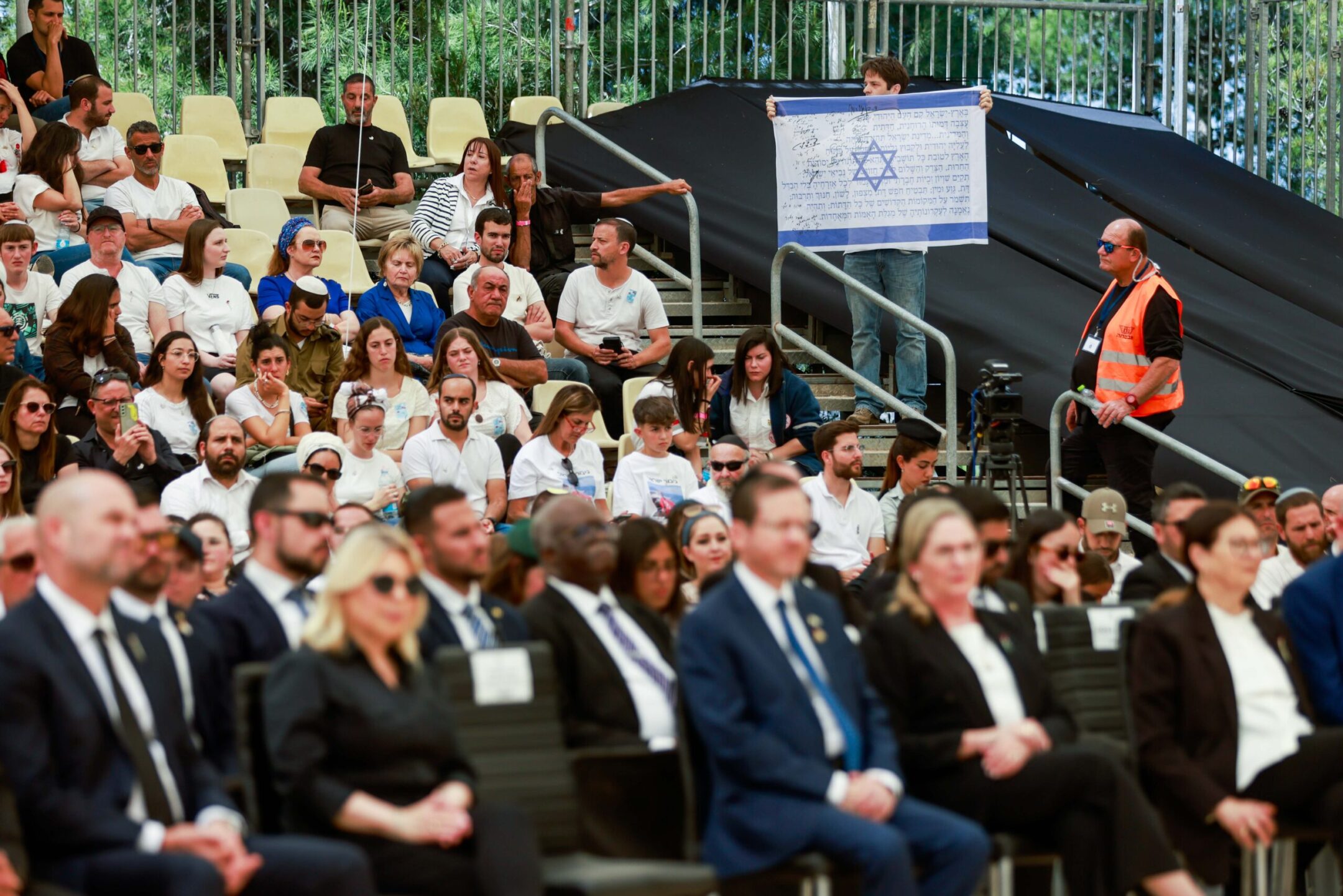 TEL AVIV (JTA) — In an unusual politicization of Israel's Memorial Day on Tuesday, several senior Israeli government officials faced protests at ceremonies commemorating fallen soldiers.
The tensions unfolded as an Israeli was wounded in a shooting in the West Bank, and after five people were wounded in a car ramming Monday at Jerusalem's Mahane Yehuda market.
The observances of the day, which is treated with solemnity and reverence in Israel, came days before the government intends to resume advancing legislation that would sap the Supreme Court of much of its power. The proposed reforms have caused upheaval and massive street protests in Israel, and both Prime Minister Benjamin Netanyahu and opposition leaders had called for a pause on demonstrations out of respect for the day.
Despite those calls, several ministers in Netanyahu's government faced opposition and ridicule as they appeared at official memorial events. The far-right national security minister, Itamar Ben-Gvir, addressed a ceremony in the southern city of Beersheva despite requests from bereaved families for him to refrain. Ben-Gvir was not enlisted in Israel's mandatory military service due to his extremist activities.
Ben-Gvir ascended the stage at the event without coming into contact with the crowd, which was separated by barricades, according to the Times of Israel. Attendees shouted at him and at each other as he spoke, and engaged in scuffles after the event. One woman had an open water bottle thrown at her.
"I apologize to the fallen that we did not succeed in defending their honor," said Ei Ben Shem, the head of a memorial organization, according to the Israeli news site Ynet. "Minister Ben-Gvir did not act intelligently. He caused blows and a rift between bereaved families. … Never have bereaved families raised a hand against each other."
On Monday night, at a perennially controversial joint memorial service, 15,ooo Israelis and Palestinians commemorated their falen, amid right-wing protests. Palestinian participants had initially been barred by Defense Minister Yoav Gallant before the Supreme Court ruled that they must be allowed to attend.
Another minister, Gila Gamliel, was prevented from entering a Druze memorial ceremony, while other colleagues of hers were heckled at other ceremonies. Amid the clashes, Netanyahu urged unity in his address.
"This year, more than ever, on the Memorial Day for the brave of our nation, we will remember that we are brothers: Jews, Druze, Muslims, Bedouin, Christians and Circassians," Netanyahu said at an official state ceremony, according to the Times of Israel. "Brothers in service, brothers in arms, brothers in blood."
In a separate speech, he called on Israelis to "deepen our hold on our homeland."
Former Defense Minister Benny Gantz, a Netanyahu opponent, tweeted that this was his "saddest Memorial Day."
This article originally appeared on JTA.org.
The post Tensions mark Memorial Day ceremonies in Israel as Netanyahu urges unity appeared first on The Forward.