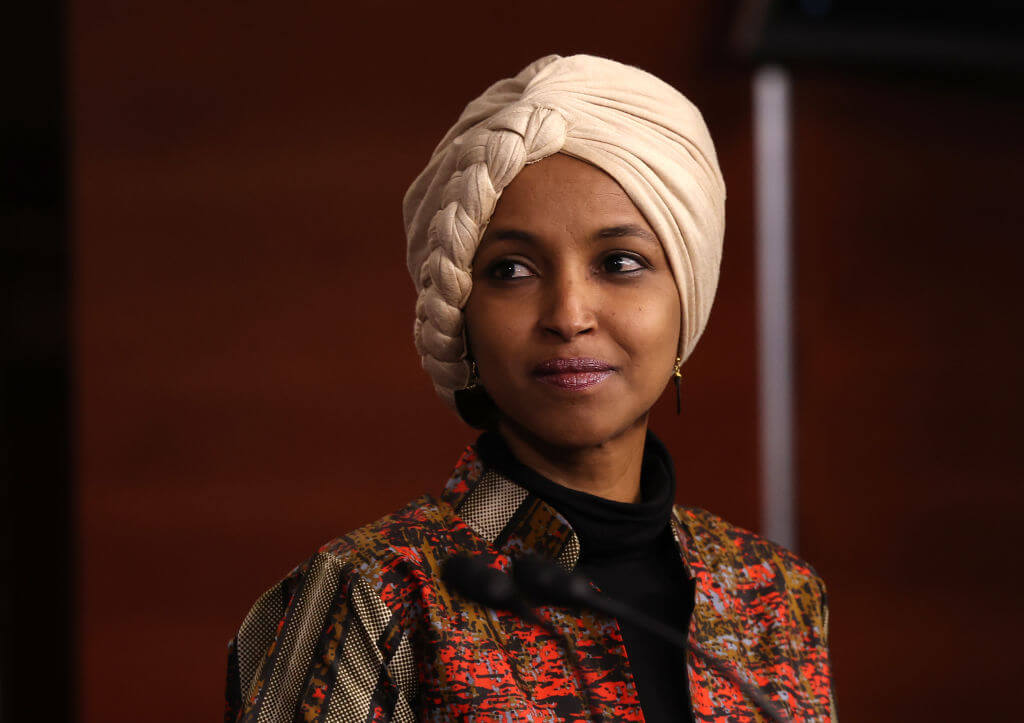 Rep. Ilhan Omar and her fellow Democrats pushed back Wednesday on House Speaker Kevin McCarthy's attempt to remove her from the influential House Foreign Affairs Committee, in part because of her past comments against the American Israel Public Affairs Committee that were perceived as antisemitic.
In a press conference on Capitol Hill, Omar said she had already apologized for suggesting AIPAC was paying politicians to support Israel, in a post she published on Twitter in February 2019, or as she put it, "two and a half terms ago." 
The House Foreign Affairs Committee has jurisdiction over diplomatic and national security matters, including foreign assistance, war powers and the enforcement of international sanctions. 
McCarthy has been fundraising over his promise to yank Omar from the committee in the past few months since Republicans won control of the House in November. "I remember what she said about Israel," McCarthy said in remarks at the Republican Jewish Coalition's annual summit in November. "I remembered it so much, I promised you last year she would no longer be on foreign affairs. I'm keeping that promise." 
On Tuesday, McCarthy blocked Reps. Adam Schiff and Eric Swalwell from California from being assigned to the House Intelligence Committee. But the speaker does not have the power to remove a member of a standing committee on his own; it takes a majority vote on the floor.
Pete Aguilar from California, who serves as chair of the House Democratic Caucus, said on Wednesday that Democrats stand united with Omar and predicted that opposition to her removal will be bipartisan. At least two House Republicans, Victoria Spartz from Indiana and Nancy Mace from South Carolina, have said they will oppose McCarthy's move to remove Omar. Other Republicans have also indicated their support is not guaranteed. Tim Burchett from Tennessee and David Valadao from California told Politico they were still undecided, and David Joyce from Ohio, chair of the Republican Governance Group, told Axios that Omar "should at least be given the opportunity to defend her prior statements" on the House floor.
Given the slim Republican majority, McCarthy cannot lose more than a handful of votes if he hopes to succeed. 
Omar suggested that McCarthy is driven by "revenge" and seeking to appease former President Donald Trump and his supporters. She called McCarthy "a liar and a coward" last year after he refused to discipline Rep. Lauren Boebert from Colorado when she called Omar a member of a "jihad squad." 
"I believe that if and when this vote comes, it will be a moment of clarity," Omar said. "And I hope that many of these Republicans will have conscience and will not prove to their constituents and the American people just how much of partisan hacks they are." 
Rep. Michael Lawler, a freshman Republican who represents New York's Hudson Valley who was recently assigned to the 52-member panel, said in an interview that he strongly supports Omar's removal. "Her harsh rhetoric towards Israel is antisemitic," he said. "The United States needs to be clear and resolute in its support for Israel, and I don't think having someone like her on that committee makes sense."
Lawler, who represents a large Jewish constituency in a district won by President Joe Biden in 2020, said that House Democrats "created this situation" when they voted to remove Reps. Marjorie Taylor Greene from Georgia and Paul Gosar from Arizona off their committees in 2012. "They created this dynamic," he said, "and they're going to have to live by it." 
Greene, who was stripped of her House committee assignments in 2021 for incendiary comments including some that were antisemitic, was recently assigned to the Homeland Security and Oversight and Reform committees. 
Schiff, who is Jewish, called McCarthy's move hypocritical. Referring to McCarthy, Schiff said, "This is someone who owes his allegiance to a party leader in Mar-a -Lago who dines with white nationalists and antisemites," he said, referencing Trump's dinner in November with rapper Kanye West, who went on a tirade of antisemitism and Holocaust denial at the time, and Nick Fuentes, a prominent white supremacist. "He is putting people on committees who speak at white nationalist rallies. That hypocrisy just grabbed me by the throat." 
Rep. Michael McCaul, chair of the Foreign Affairs Committee, reportedly made the case against Omar during a Republican conference meeting Wednesday and said a House floor vote will take place in the coming days. 
McCaul's spokesperson didn't immediately respond to a request for comment.
The post Omar pushes back against McCarthy as opposition to remove her from key House panel grows appeared first on The Forward.