(JTA) — Renowned broadcaster Chris Berman and a German Jew who once said hockey "saved me and my family from the Holocaust" are among the International Jewish Sports Hall of Fame's annual class of inductees.
The 2023 class, shared exclusively with the Jewish Telegraphic Agency, includes athletes and sports figures from across sports and around the world — from water polo to fencing, and from the United States to Hungary.
Jed Margolis, president of the hall of fame, told JTA that the 11 inductees were selected from a list of 150 nominees submitted through an open process throughout the past year. A confidential election committee of around 20 athletes, past award winners and sports experts voted on a smaller list of approximately 30 finalists.
"I'm first of all impressed with how there's no shortage of qualified people — world record holders, people who've been at the highest level of their sport and voted into their particular sport hall of fame," Margolis said. "You would think that we may run out of people, but we're getting great nominations all the time."
Margolis added that honoring Jewish athletes can help push back against stereotypes that Jews may not be athletic — most infamously depicted in the 1980 film "Airplane!"
"If you take a look at the numbers of who we represent worldwide, what are we, about 0.02% of the world population, and we've won about 0.03% of the Olympic medals. So we're boxing above our weight, so to speak," Margolis said.
The 2023 class brings the hall's total to 448 members since its inauguration in 1981. Shoe designer and Maccabiah athlete and philanthropist Stuart Weitzman is also being honored, as are the recently retired editors of the Jewish Sports Review magazine.
The Hall, which is housed at the Wingate Institute for Physical Education and Sport in Netanya, Israel, will recognize this year's honorees at its next induction ceremony in July 2025. Inductees are announced annually, but the ceremony itself is held every four years, when the Maccabiah Games take place.
For now, here's what you need to know about this year's honorees.
Rudi Ball, ice hockey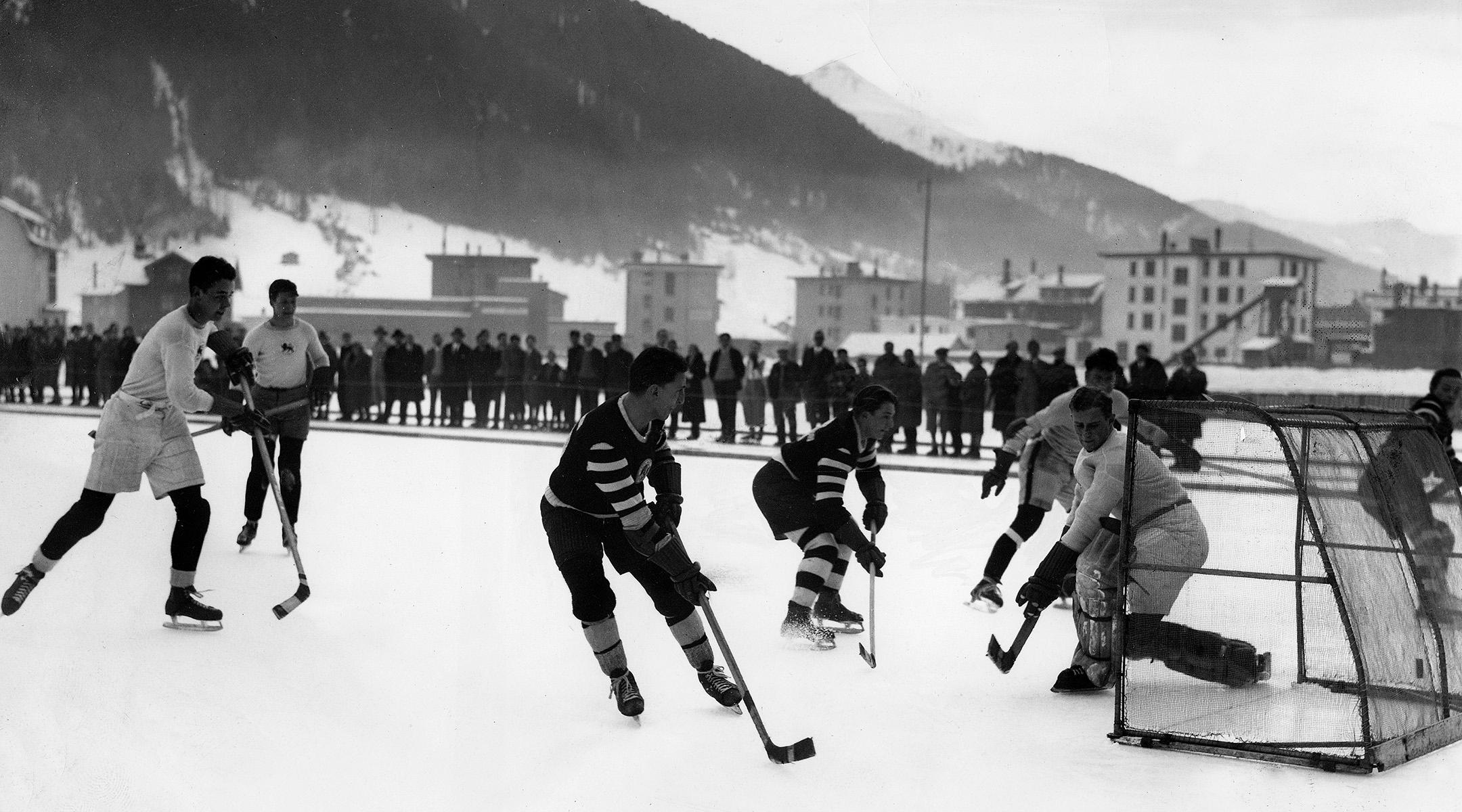 Rudi Ball, center, scores a goal in December 1931. (ullstein bild via Getty Images)
A member of the International Ice Hockey Hall of Fame, Ball (1911-1975) was one of two Jewish athletes to represent Germany at the 1936 Winter Olympics, held in Germany six months before the Berlin summer games that drew the world's attention to Adolf Hitler's Nazi regime.
During Ball's playing career, which spanned from 1928 to 1952, the right winger won eight German championships and a bronze medal in the 1932 Winter Olympics in Lake Placid.
When the German Olympic Committee threatened to remove Ball from the team because he was Jewish, his teammates threatened to boycott the Games. According to The Guardian, Ball may have struck a deal with the Nazi regime, agreeing to play for Germany if his parents were allowed out of the country. He later said, "I am the one who owes hockey. It saved me and my family from the Holocaust."
Chris Berman, broadcaster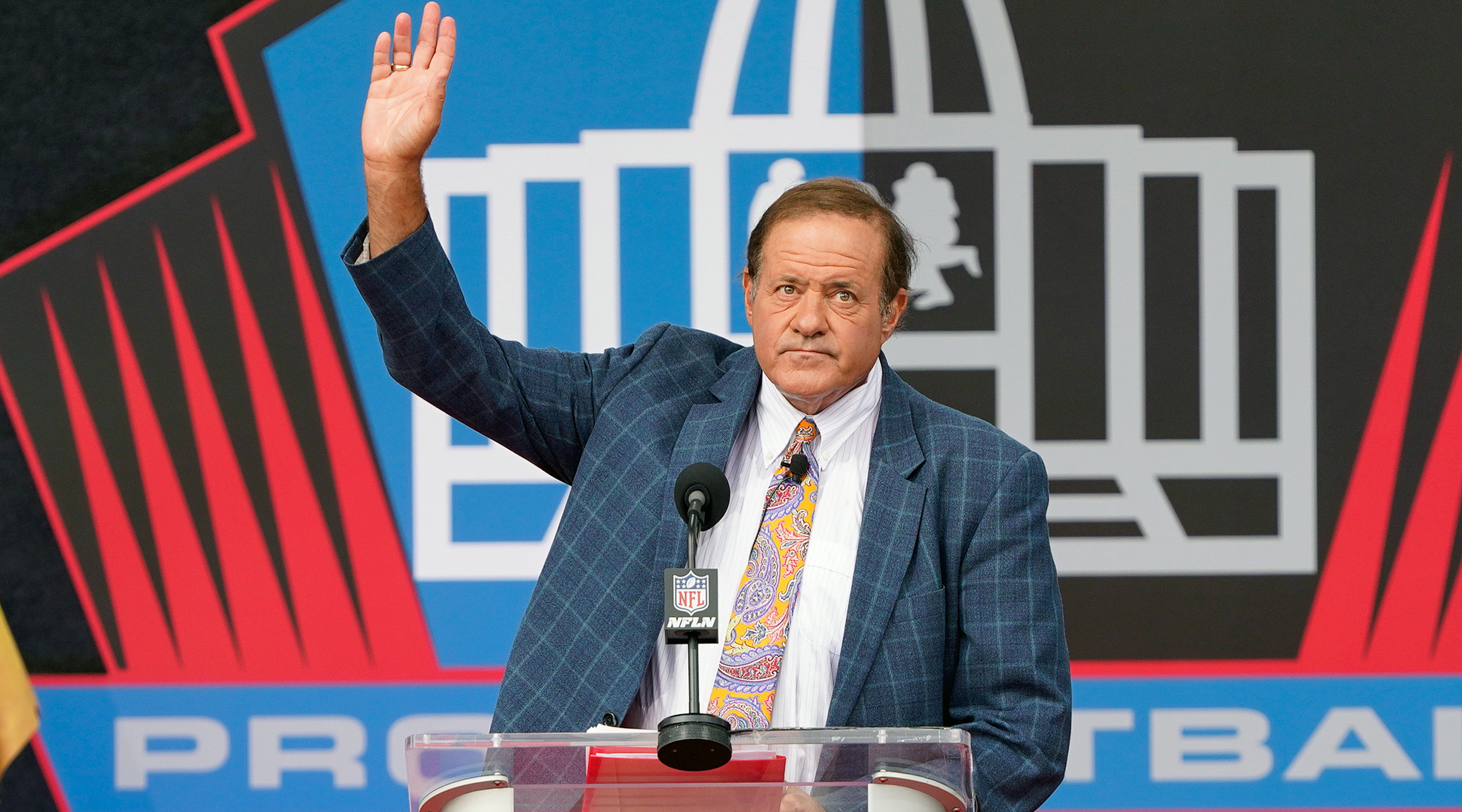 ESPN anchor Chris Berman speaks during the Pro Football HOF Centennial Class of 2020 enshrinement ceremonies in Canton, Ohio, Aug. 7, 2021. (MSA/Icon Sportswire via Getty Images)
Award-winning broadcaster Chris Berman has been an anchor for ESPN's flagship program "SportsCenter" since 1979, a month after it launched. Berman, 67, has primarily been the face of the network's football coverage, but he has also anchored the U.S. Open golf tournament and the NHL Stanley Cup Finals and has done play-by-play for Major League Baseball games as well.
Nicknamed "Boomer," Berman was raised in a Jewish family in Irvington, New York. He is a six-time recipient of the National Sportscasters and Sportswriters Association's National Sportscaster of the Year award, an inductee of the Sports Broadcasting Hall of Fame and has his own star on the Hollywood Walk of Fame.
David Blatt, basketball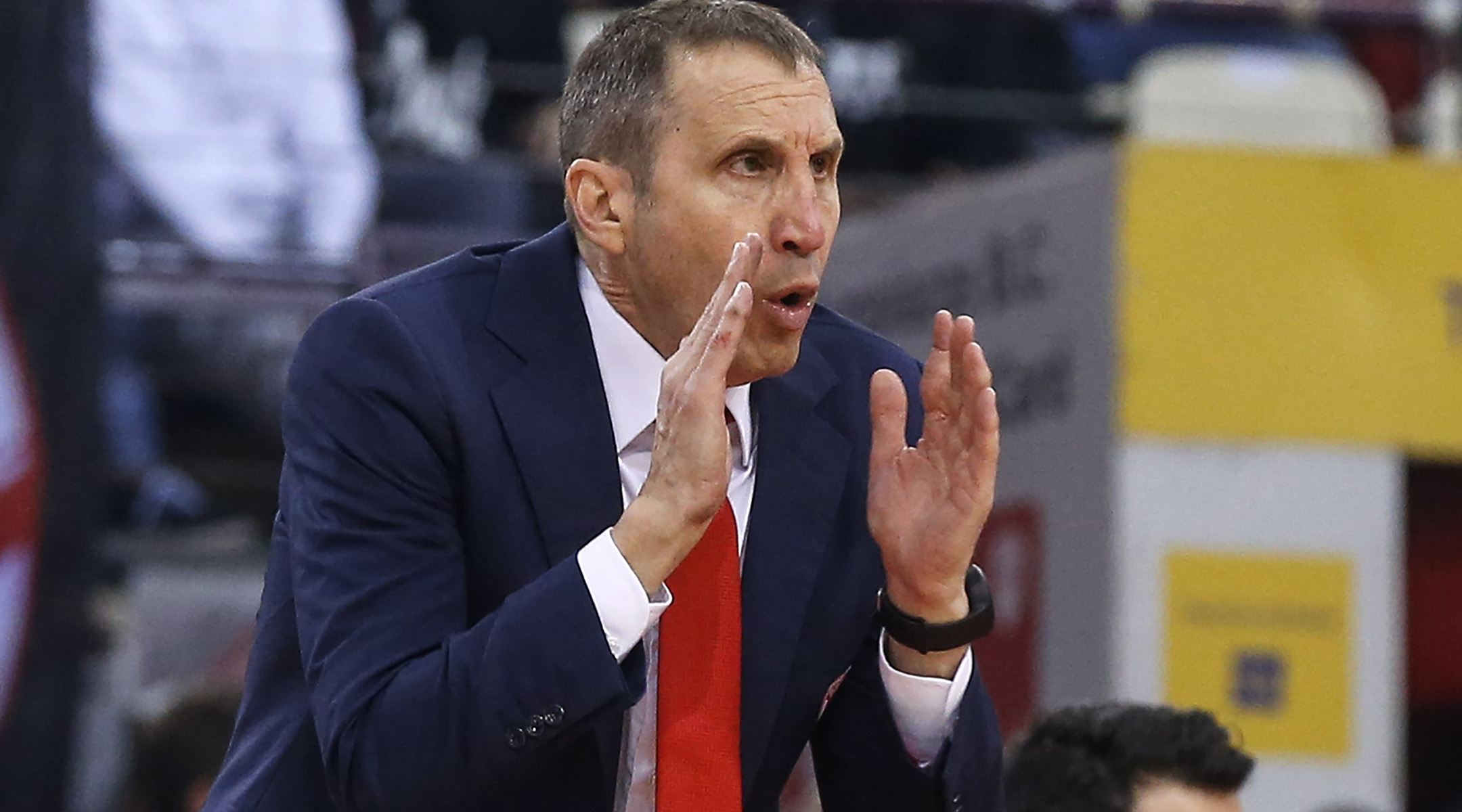 David Blatt coaching during a Turkish Airlines Euroleague match between the Olympiacos and Bayern Munich in Athens, Greece, March 19, 2019. (Ayhan Mehmet/Anadolu Agency/Getty Images)
David Blatt is a decorated former basketball player, coach and executive whose career has included playing at Princeton University; professional basketball leagues in Israel, Italy, Russia, Turkey and Greece; and a stint as head coach of the NBA's Cleveland Cavaliers.
Blatt, 63, who was born in Boston and grew up attending a Reform synagogue, moved to Israel in 1981, where he served in the military and played professionally for more than a decade before turning to coaching.
Blatt won championships and coaching accolades throughout his career, and has also played in the Maccabiah Games and coached in the Olympics. He led the Cavaliers to the 2015 NBA Finals in his first season as coach, and received a ring for the team's championship the following year, despite being fired halfway through the season.
Deena Kastor, track & field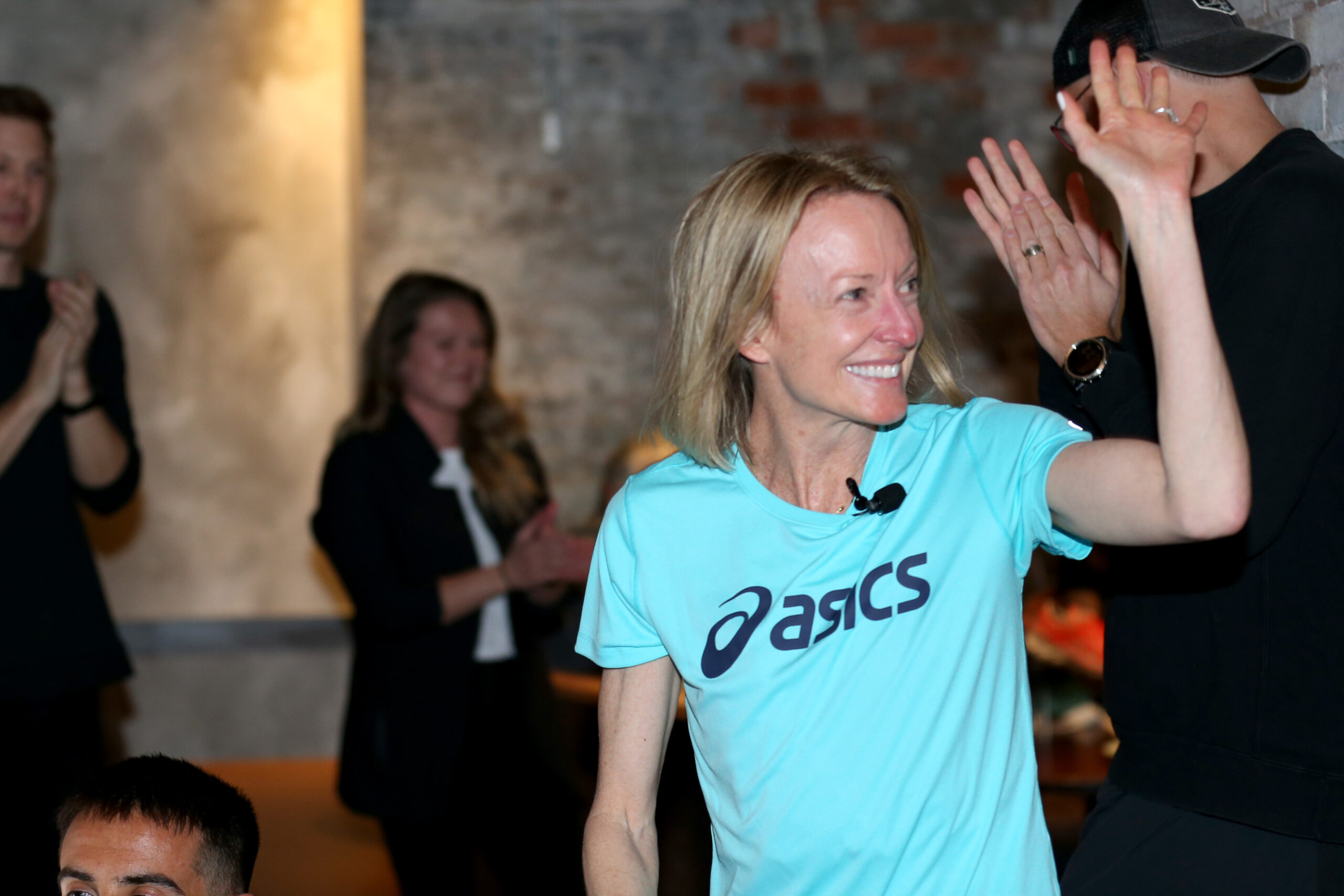 Deena Kastor attends an ASICS event, Feb. 27, 2020. (Carmen Mandato/Getty Images for ASICS)
A Boston-area native, Deena Kastor is an eight-time national champion in cross country who won a bronze medal at the 2004 Olympics and holds U.S. records for the 10-mile, 15-kilometer and 8-kilometer women's road races. She previously held the U.S. record for women's marathon and half marathon.
Kastor, 49, is a member of the National, New York and Southern California Jewish Sports Halls of Fame, and has also earned various honors from USA Track & Field.
Ilona Elek-Schacherer, fencing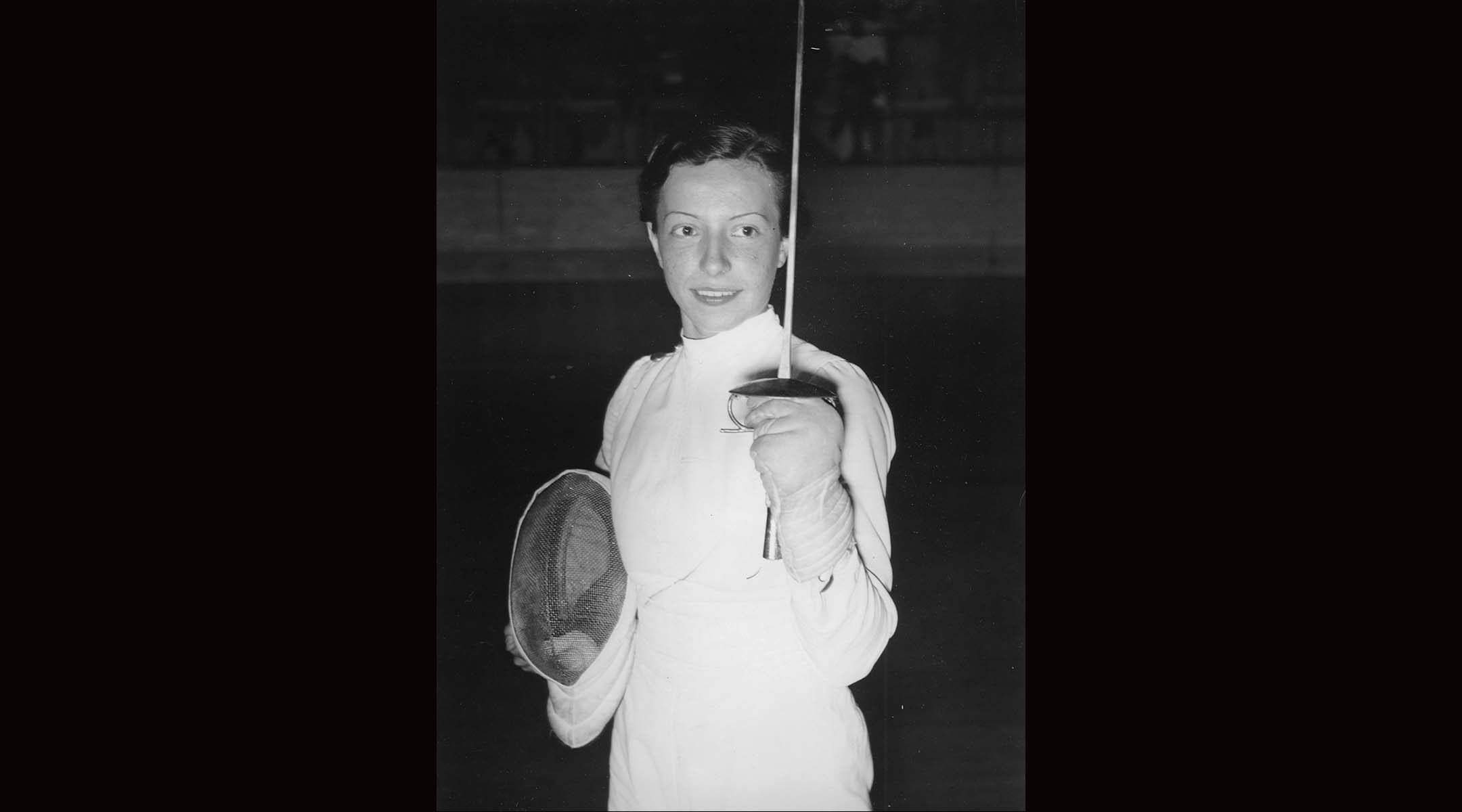 The Hungarian fencer Ilona Elek-Schacherer wins in foil fencing during the Olympic Games, Aug. 1936. (Austrian Archives/Imagno/Getty Images)
Born in Budapest to a Jewish father and Catholic mother, Ilona Elek-Schacherer (1907-1988) would go on to become perhaps the greatest woman fencer of all time.
Elek-Schacherer competed in three Olympics for Hungary between 1936 and 1952, winning two gold medals and one silver medal. She also won 10 gold medals, five silver medals and two bronze medals in World Championships spanning 1934 to 1956. (It is unclear how she spent the war years.)
She won more international fencing titles than any other woman.
John Frank, football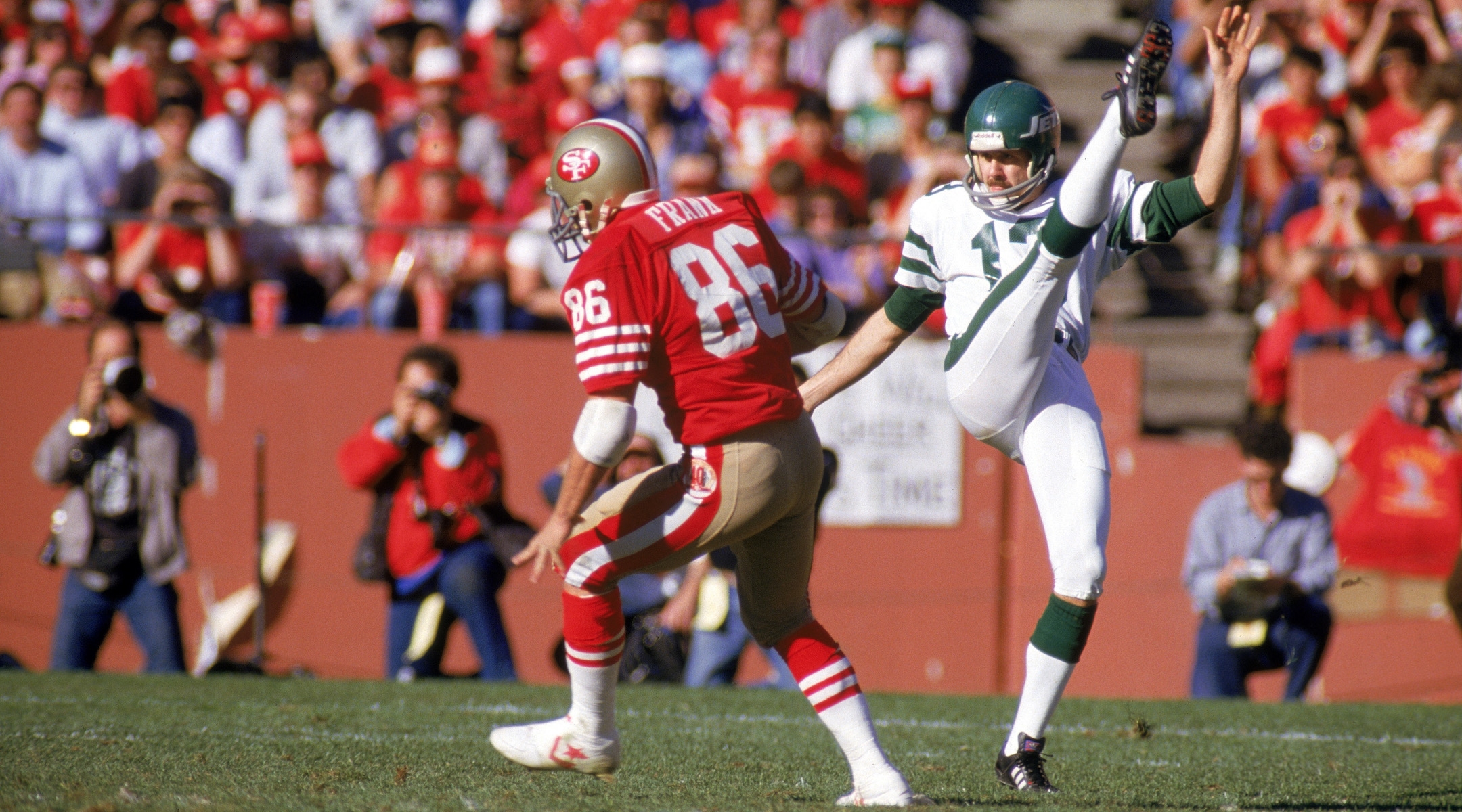 John Frank, center, during a game at Candlestick Park on Dec. 7, 1990, in San Francisco, California. (Andrew D. Bernstein/Getty Images)
John Frank is a two-time Super Bowl champion tight end with the San Francisco 49ers who has enjoyed a successful second career as an otolaryngologist (ear, nose and throat doctor) with a focus on hair restoration surgery.
Frank, 60, also played football at Ohio State University, where he set a school record for receptions by a tight end and was twice honored as an Academic All-American. He was the team's most valuable player his senior year.
Frank also co-founded the Israeli bobsled team and is a member of the Ohio State Athletic Hall of Fame, the National Jewish Sports Hall of Fame and the Western Pennsylvania Jewish Sports Hall of Fame.
Merrill Moses, water polo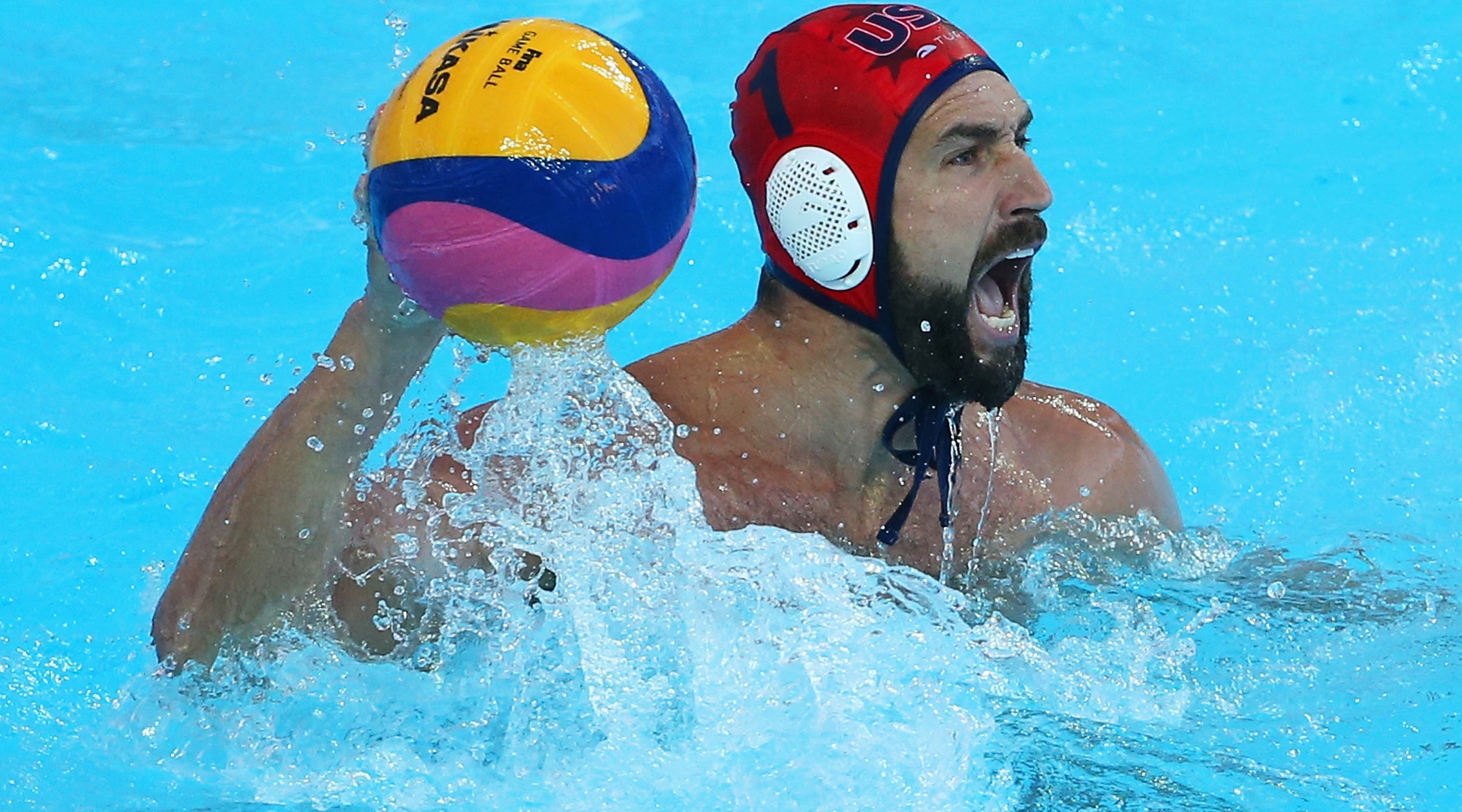 Merrill Moses during a match between the United States and Russia in Kazan, Russia, July 27, 2015. (Streeter Lecka/Getty Images)
Merrill Moses is a three-time Olympic water polo goalkeeper who earned a silver medal at the 2008 Beijing Olympics and won the 1997 NCAA water polo championship with Pepperdine University.
Moses, 45, also played for the U.S. team in the 2012 and 2016 Olympics, and won gold medals at three Pan American Games in 2007, 2011 and 2015. He was inducted into the USA Water Polo Hall of Fame in 2021 and is also a member of the Southern California Jewish Sports Hall of Fame.
Moran Samuel, rowing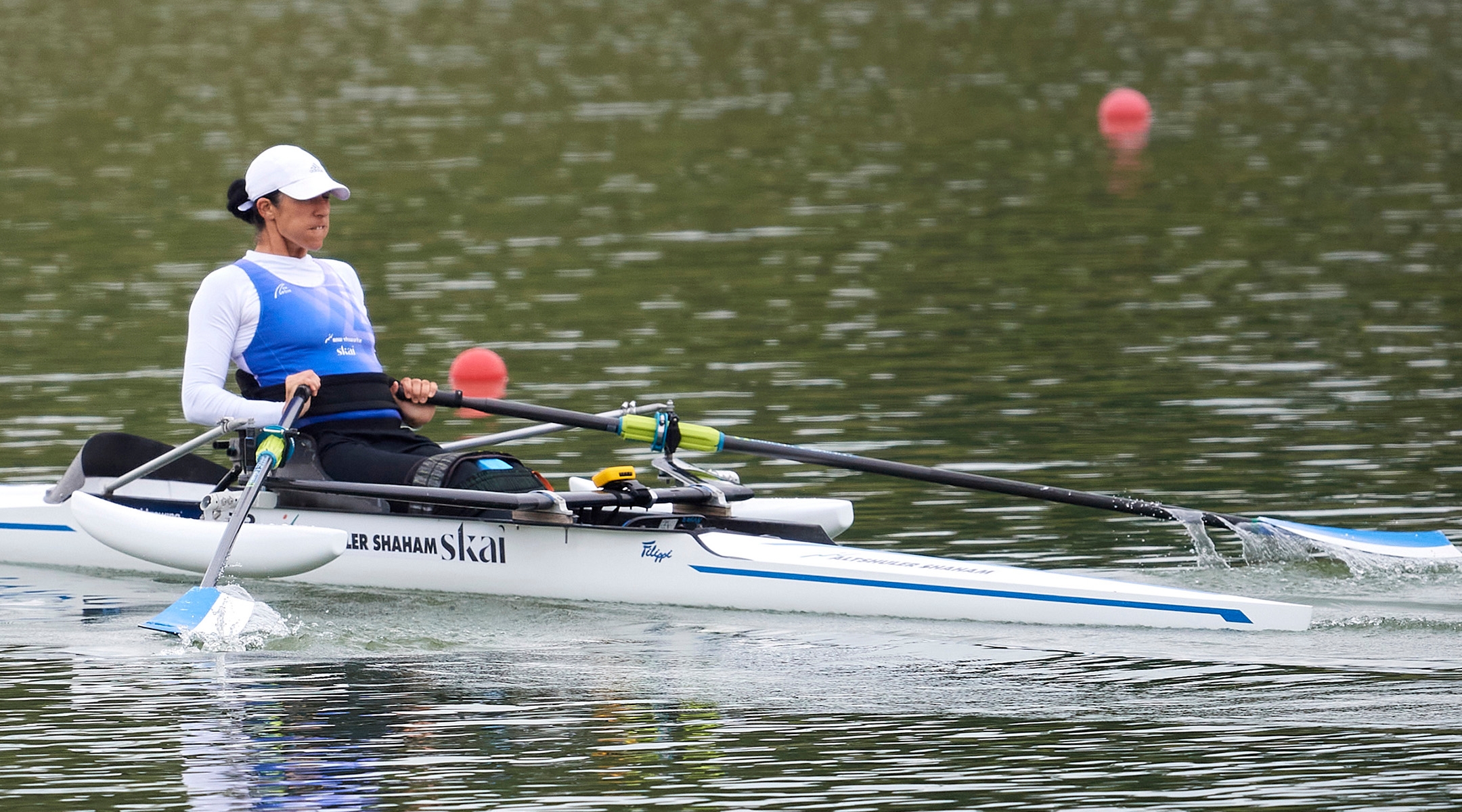 Moran Samuel competes during the 2022 World Rowing Championships in Racice, Czech Republic, Sept. 21, 2022. (Adam Nurkiewicz/Getty Images)
Moran Samuel is an Israeli world champion paralympic rower and basketball player. After suffering a spinal stroke in 2006, Samuel became paralyzed in her lower body.
Samuel, 40, played for Israel in the 2013 European Wheelchair Basketball Championship in Frankfurt. As a rower, she represented Israel at the Paralympic Games in 2012, 2016 and 2020. She won bronze and silver medals, respectively, in the latter two tournaments. Samuel also won a gold medal at the 2015 World Rowing Championships.
In 2012, Samuel won a race in single scull competition at a rowing tournament in Italy, but the event organizers were unable to play the Israeli national anthem — so she sang it herself.
Mordechai Spiegler, soccer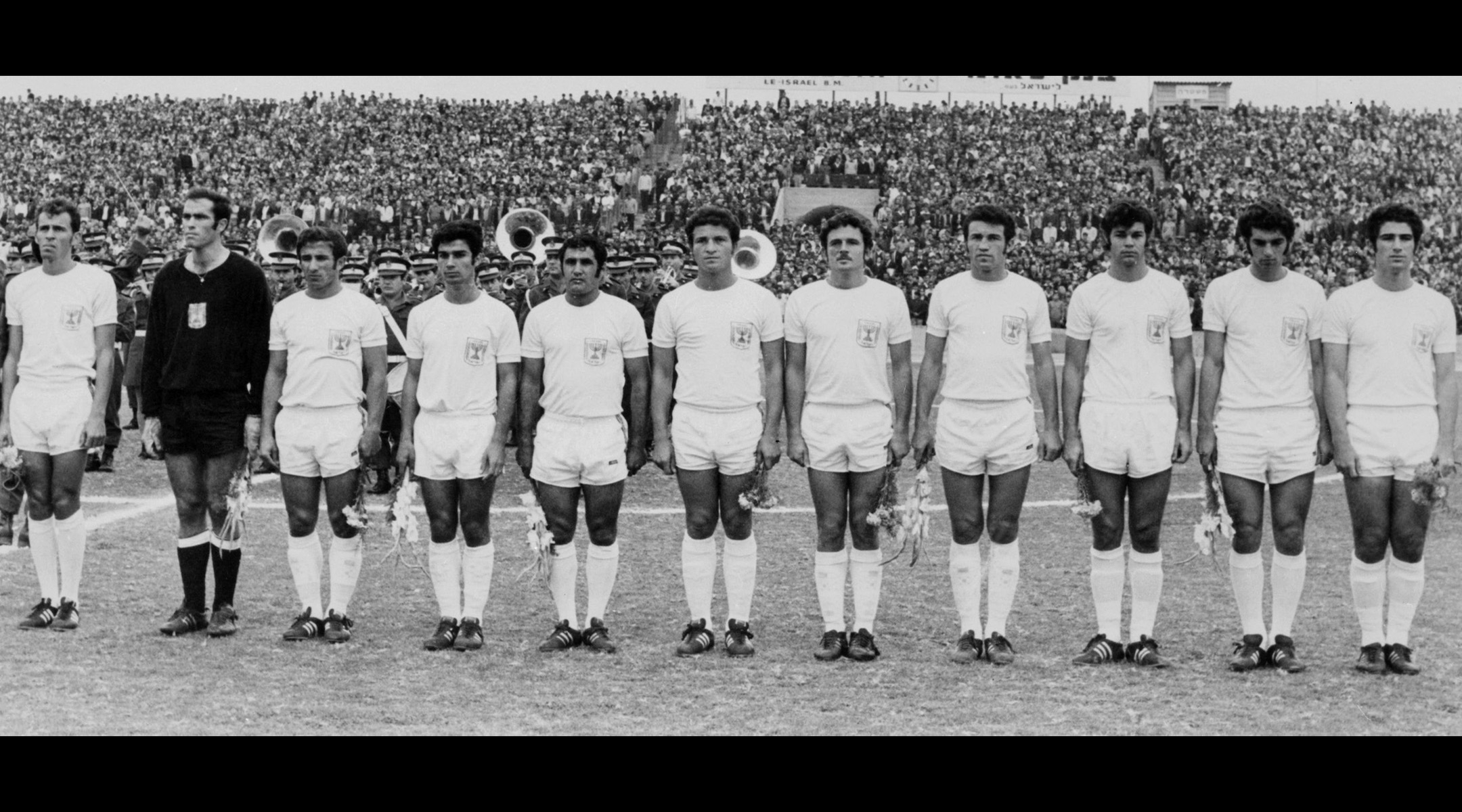 Mordechai Spiegler, far left, and the Israeli national soccer team lines up before a friendly match against Australia, May 25, 1970, in Mexico City. (Staff/AFP via Getty Images)
Considered among the best Israeli soccer players ever, Mordechai Spiegler's crowning achievement was helping Israel qualify for the 1970 FIFA World Cup, the last time the country did so. He scored Israel's only World Cup goal in history.
Spiegler, 78, was captain of the Israeli Olympic team that reached the quarterfinals at the 1968 Mexico City Olympics, and his 32 national team goals were a record until 2021. Spiegler also coached for many years in Israel. He is a member of the Israeli Football Hall of Fame.
Outside of Israel, Spiegler played for the vaunted Paris Saint-Germain club and for the New York Cosmos of the North American Soccer League, where he was teammates with the Brazilian soccer legend Pelé, who died last month.
Dwight Stones, track & field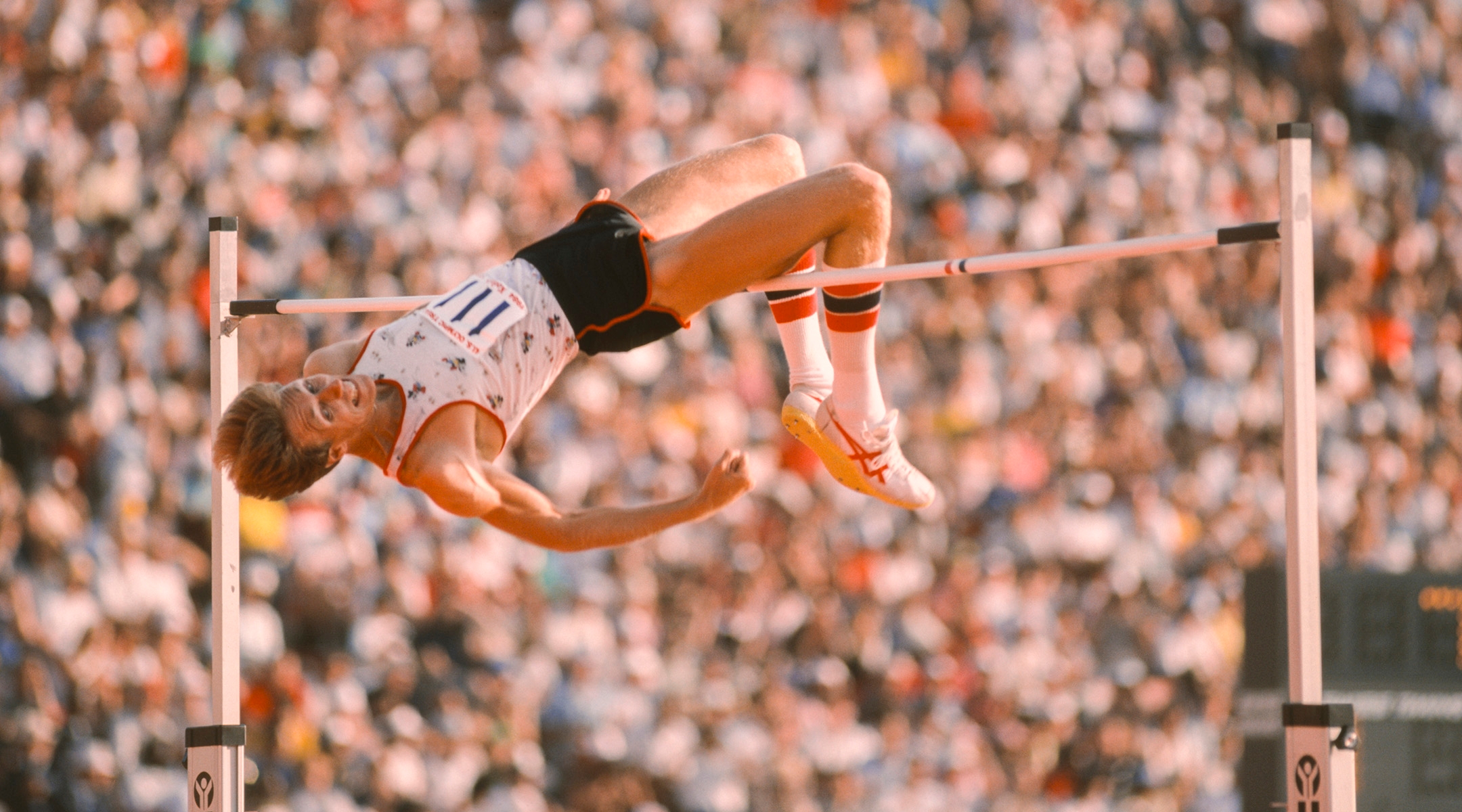 Dwight Stones competes in the men's high jump final during the 1984 United States Olympic Track and Field Trials in Los Angeles, June 1984. (David Madison/Getty Images)
Los Angeles native Dwight Stones is a two-time Olympic bronze medalist in high jump, including at the 1972 Munich Olympics, which was marred by the terrorist attack that killed 11 members of the Israeli delegation.
Stones, 69, won 19 national championships in his 16-year career, and still holds multiple world records. In 1984, he became the first athlete to both compete and be an announcer at the same Olympics. He has since served as a television analyst, including at the 2008 Summer Olympics.
Stones is a Maccabiah Games alum and is a member of the U.S. Track Hall of Fame, the California Sports Hall of Fame and the Orange County Jewish Sports Hall of Fame.
Ariel Ze'evi, judo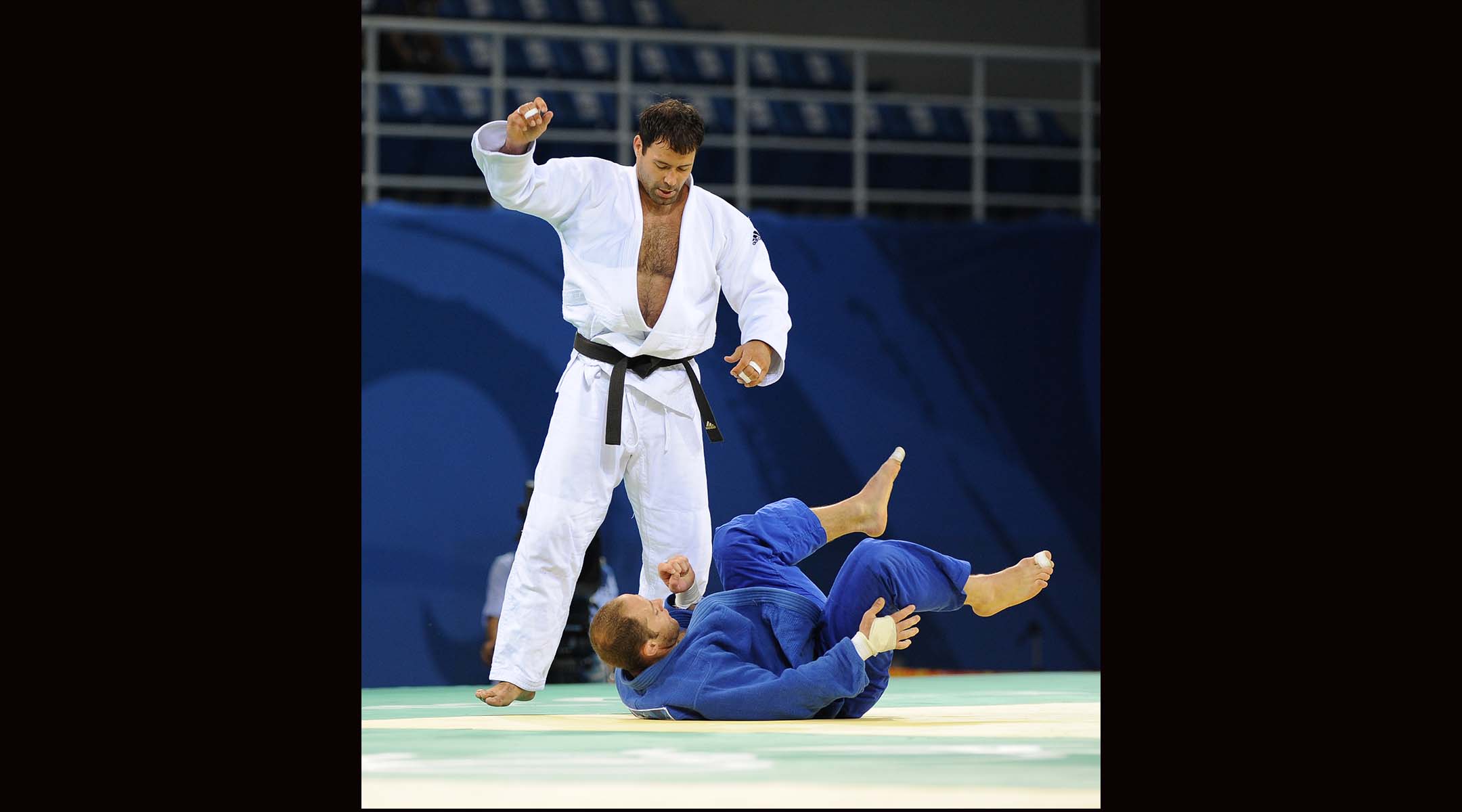 Israel's Arik Ze'evi in action against France's Frederic Demontfaucon in the Men's -100kg class in Beijing, 2008. (Tony Marshall/PA Images via Getty Images)
Ariel Ze'evi is a retired Israeli judo champion.
Nicknamed "Arik," the 45-year-old Bnei Brak native won a bronze medal at the 2004 Olympics as well as four European championships and a silver medal at the 2001 World Championships.
He also competed in the 1997 Maccabiah Games, two International Judo Federation Grand Slams (including a 2011 win) and two IJF Grand Prix.
Other honorees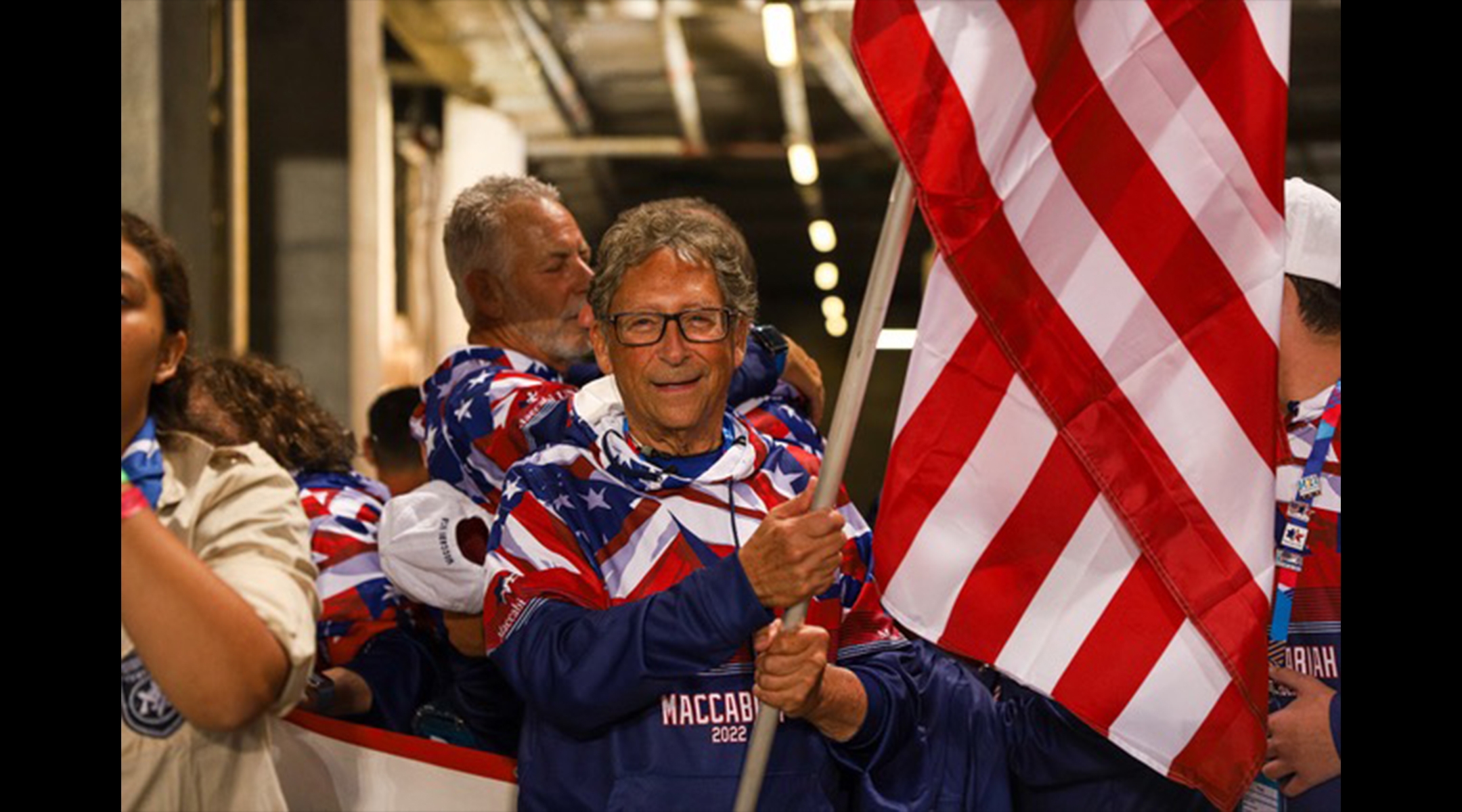 Stuart Weitzman served as the U.S. team's flag bearer. (Courtesy Maccabi USA)
The IJSHOF is also honoring shoe designer Stuart Weitzman with its lifetime achievement award and longtime co-editors of the Jewish Sports Review Ephraim Moxson and Shel Wallman with an award of excellence.
Weitzman is a Maccabiah pingpong medalist who has supported Maccabi USA with millions of dollars of support.
Moxson and Wallman recently concluded a 25-year run producing the Jewish Sports Review, a bimonthly magazine identifying Jewish athletes from college through professional sports.
This article originally appeared on JTA.org.
The post ESPN broadcaster Chris Berman among International Jewish Sports Hall of Fame's 11 inductees for 2023 appeared first on The Forward.