(JTA) — An illustrated book about an inspiring Holocaust survivor and two works of fantasy featuring dybbuks and Jewish demons have won this year's top prizes in Jewish children's literature.
The Sydney Taylor Book Awards are awarded annually to outstanding works of Jewish literature for children, as part of the American Library Association's youth media awards and in conjunction with the Association of Jewish Libraries.
This year, the top winner in the picture book category was ""The Tower of Life: How Yaffa Eliach Rebuilt Her Town in Stories and Photographs" by Chana Stiefel, illustrated by Susan Gal. "Aviva vs. the Dybbuk" by Mari Lowe won in the middle-grade level. And "When the Angels Left the Old Country," the debut novel by Sacha Lamb, garnered the young adult award.
Named in memory of Sydney Taylor, the author of the "All-of-a-Kind-Family" series that is being made into a TV show, the prestigious award "recognizes books that exemplify high literary standards while authentically portraying the Jewish experience," according to the award committee announcement. 
As chair of the Sydney Taylor award committee for the past three years, Martha Simpson sees a growing diversity in Jewish children's books. This year, they considered an array of new titles that portray global Jewish life, others that feature neurodiverse characters and LGBTQ kids and more set in Orthodox communities, she wrote in an email.
"There are many different ways to live a Jewish life," Simpson said. "It's wonderful that these stories are finally being written and published so that readers can see themselves and also learn about other experiences."
The top picture book tells the story of Yaffa Eliach, who survived the Holocaust in hiding with her family after being expelled from their hometown of Eishyshok, a Polish shtetl (now in Lithuania) where she had helped in her grandmother's bustling photography studio taking portraits of the Jewish villagers.
After immigrating to the U.S. and becoming a historian, Eliach set about a globetrotting journey to thousands of photographs and remembrances from Eishyshok's Jewish families. Her ambitious project is now a centerpiece of the core exhibit at the U.S. Holocaust Memorial Museum in Washington, D.C. She died in 2016.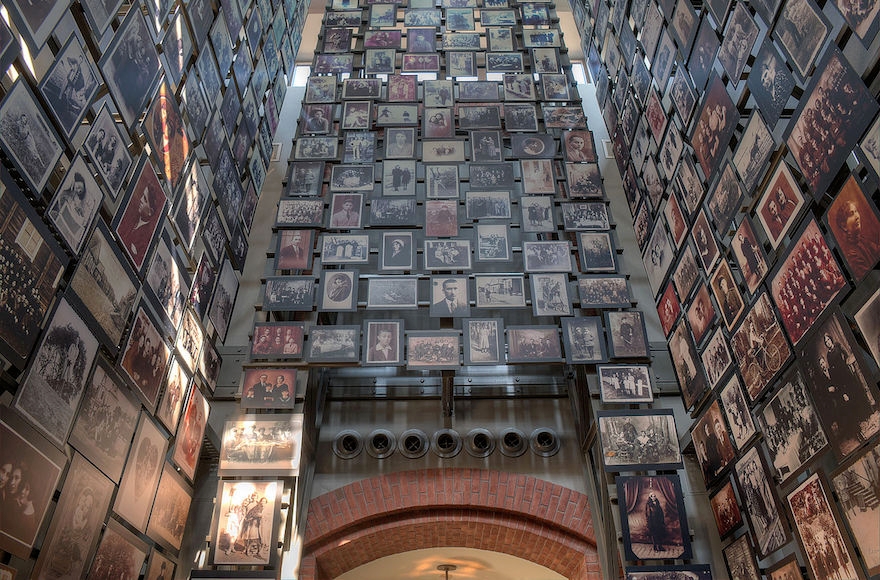 The Tower of Faces at the United States Holocaust Museum in Washington, D.C. (Wikimedia Commons)
Image by
Gal, a previous Sydney Taylor winner and past recipient of the National Jewish book award, brings Eliach's story to life through her richly colored illustrations interspersed with photographs of Eliach.
Lowe's "Aviva vs. the Dybbuk" is a suspenseful coming-of-age novel about an introspective 11-year-old girl that opens a window into daily life in a tight-knit Orthodox Jewish community in New York. After the traumatic accidental death of her father, Aviva and her increasingly reclusive mother move into a small apartment above the old mikveh, the ritual bathing house where Aviva's mother becomes the caretaker. A supernatural, troublemaking dyybuk, whom only Aviva can see, becomes Aviva's confidant. The tale of resilience deals with grief, memory, the ups and downs of teen friendship, acts of antisemitic violence and the healing power of love and community. 
A demon named Little Ash and an angel named Uriel are the compelling otherworldly characters at center stage of "When the Angels Left the Old Country," Lamb's lyrically penned historical fantasy. As the page-turning drama unfolds, the pair of unlikely, centuries-old Talmud study partners, who take on human-like form, set out from their small Pale of Settlement shtetl and head to New York City on a quest to find the village baker's missing daughter.
In their journey, they confront the perils faced by Jewish immigrants — a deceitful rabbi, probing Ellis Island officials, exploitative sweatshop bosses and the pushes and pulls of Jewish assimilation. Lamb, a 2018 Lambda Literary Fellow in young adult fiction, paints a richly textured tale of pathos and wit, filled with Jewish culture that explores gender identity and the bonds of friendship.
"Angels" took home two other ALA prizes, including the Stonewall book award for LGBTQ works for young readers.
In addition to the top winners, the Sydney Taylor committee named nine books as silver medalists and nine notable titles of Jewish content. Winners will be honored in June at the AJL's digital conference. https://jewishlibraries.org/2023-digital-conference.
Other books with Jewish characters and themes also garnered several ALA awards including, "The Life and Crimes of Hoodie Rosen," by Isaac Blum, which won the William C. Morris young adult debut award; and "Just a Girl: A True Story of World War II" by Lia Levi, illustrated by Jeff Mason, which won the Batchelder prize, adapted for young readers, and translated from its original in Italian.
Jewish children's books recently recognized by the Jewish Book Council's National Jewish book awards were "The Very Best Sukkah: A Story from Uganda" by Shoshana Nambi, illustrated by Moran Yogev, and the middle-grade novel "The Prince of Steel Pier" by Stacy Nockowitz.
Last week, the Association of Jewish Libraries announced separately that Omer Friedlander won the organization's fiction prize for "The Man Who Sold Air in the Holy Land," a collection of short stories set in Israel.
This article originally appeared on JTA.org.
The post American Library Association honors children's book about shtetl life before the Holocaust appeared first on The Forward.