Michael Novakhov's favorite articles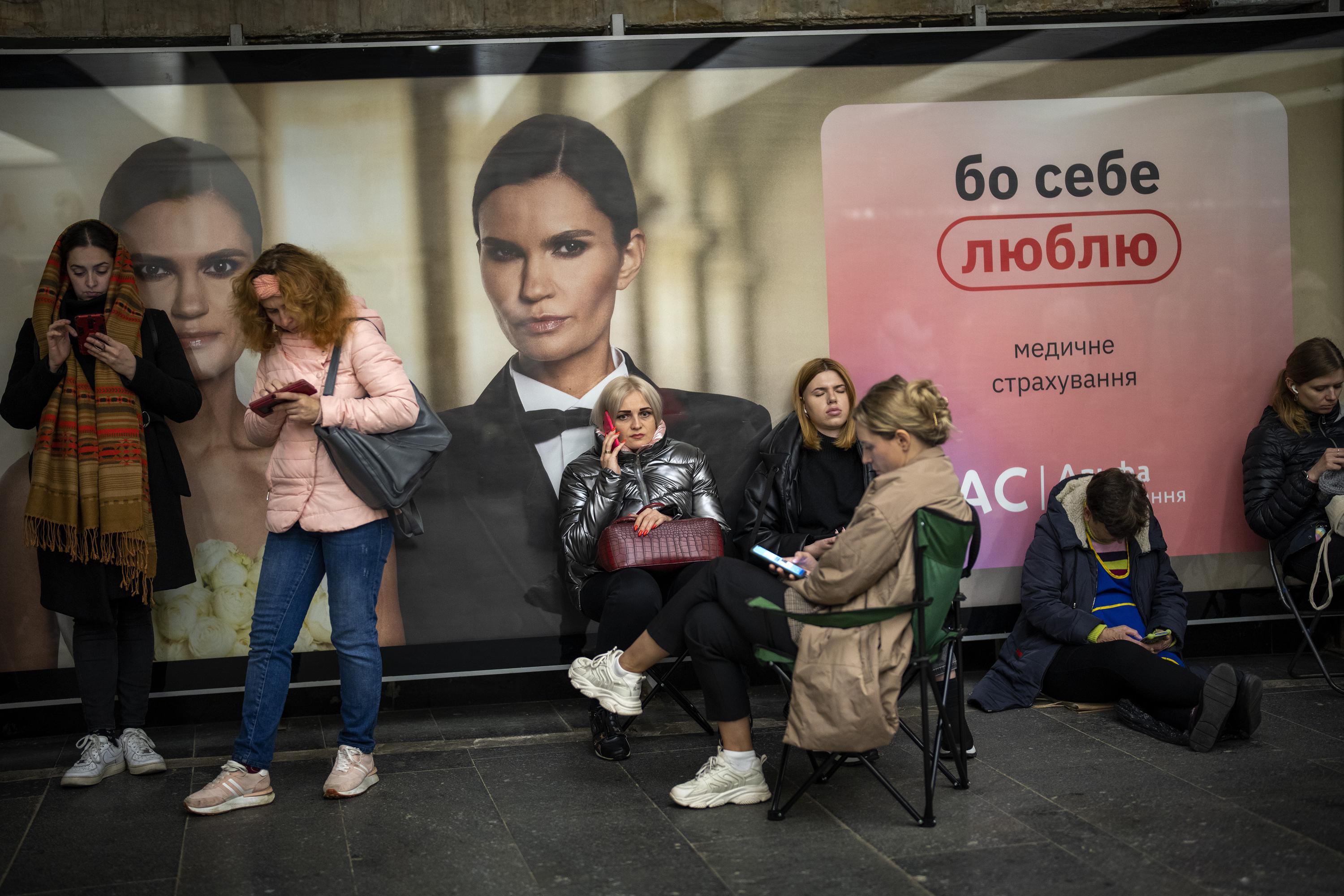 KYIV, Ukraine — Ukraine's Air Defense Forces say Russia attacked several regions of Ukraine with missiles on Wednesday afternoon, again targeting the country's battered power grid as winter weather approaches.
Authorities said Ukrainian soldiers shot down four Russian cruise missiles and 10 Iranian-made drones during the attack.
Air raid sirens rang out for more than three hours in Kyiv, sending many people into the capital's subway stations for shelter.
Russian attacks have become part of daily life in the capital. Some people kept working on their computers underground, some took chairs and blankets with them.
The mayor of Kyiv, Vitali Klitschko, announced that the so-called heating season — when authorities pump heat to urban buildings — will begin on Thursday, several days earlier than usual.
Klitschko said the early step was being taken so that Kyiv residents do not overload the beleaguered power supply system by turning on electric heaters and air conditioning units.
___
KEY DEVELOPMENTS:
— Russia tightens Ukraine energy squeeze; launches evacuation
— Russia's Iranian drones complicate Israel's balancing act
— Berlusconi says Russia's Putin gifted him vodka, sweet note
— EXPLAINER: Killer drones vie for supremacy over Ukraine
— As Russia strikes power plants, Ukrainians brace for winter
___
OTHER DEVELOPMENTS:
COPENHAGEN, Denmark — Norway's domestic security agency has taken charge of an investigation into drone sightings near key infrastructure sites, after the airport in the country's second-largest city briefly closed Wednesday after locals spotted at least one drone.
Hedvig Moe, deputy chief at PST, the intelligence agency's acronym, said there was "an elevated intelligence threat from Russia" and that "Russia is in a pressed situation as a result of the war and is isolated by sanctions" over its war in Ukraine.
"We are in a tense security-political situation, and at the same time a complex and unclear threat picture that can change in a relatively short time," she said.
Also, a man with dual Russian and British citizenship was jailed for two weeks on suspicion of flying drones on Norway's Arctic archipelago of Svalbard, news reports said.
Under Norwegian law, it is prohibited for aircraft operated by Russian companies or citizens "to land on, take off from or fly over Norwegian territory." Norway is not a member of the European Union but mirrors its moves.
___
KYIV, Ukraine — Thousands of residents were hastily leaving the Russian-occupied city of Kherson on Wednesday on ferries and buses after local Russian-backed authorities announced a mass evacuation.
Konstantin, a city resident who asked for his last name to be withheld for security reasons, said "thousands of people have lined up in a queue expecting to leave."
"It looks more like a panic rather than an organized evacuation — people are buying the last remaining groceries in grocery shops and are running to the Kherson River port, where thousands of people are already waiting," Konstantin told the AP. "(The Russian-backed authorities) are just taking people away and are not saying where exactly."
Konstantin described columns of military vehicles driving around the city and civilian trucks carrying archives of documents belonging to Russian-installed government to the left bank of the Dnieper River.
"Mostly it's the pro-Russian officials, state employees, families with children and the elderly who are fleeing," Konstantin said. "People are scared by talks of explosions, missiles and a possible blockade of the city."
An operator of a hotline Russian-installed officials in Kherson set up said "the shelling of the city could start in the coming hours."
Kherson's Russian-appointed governor Vladimir Saldo said that entry to Kherson will be closed for at least seven days.
___
MOSCOW — Russian President Vladimir Putin is imposing martial law in the four regions that Moscow recently annexed from Ukraine.
He also granted emergency powers to the heads of other Russian regions Wednesday.
Putin didn't immediately spell out the measures that would be taken under the martial law. But Russian legislation envisages that it may involve restrictions on travel and public gatherings and tighter censorship, as well as giving broader powers to law enforcement agencies.
Putin didn't spell out the extra powers to be given to the heads of Russian regions under his decree, in moves that were the latest sign that the fighting in Ukraine isn't going his way.
The Russian leader also declared that a Coordination Committee will be set up to improve communication between various government agencies dealing with the fighting in Ukraine, which he continued to call the "special military operation."
The upper house of the Russian parliament is set to approve Putin's decision later Wednesday.
___
MOSCOW — The Russian military claims it has defeated a Ukrainian attempt to seize control of the Zaporizhzhia nuclear power plant.
Russian Defense Ministry spokesman Lt. Gen. Igor Konashenkov said that Ukrainian forces early Wednesday used 37 boats in an attempted landing to take over the plant located on the left bank of the Dnieper River.
He said that Russian forces thwarted the attack and destroyed the landing party.
Konashenkov's claim couldn't be independently confirmed. Ukrainian officials made no immediate comment.
The Zaporizhzhia plant, which is Europe's largest nuclear facility, was seized by Russian forces early during the conflict. It has seen relentless shelling in areas close to the plant, triggering fears of a possible nuclear catastrophe.
___
TEHRAN, Iran — Iran's Supreme Leader Ayatollah Ali Khamenei has hinted at Tehran's hand in supplying Russia with bomb-carrying suicide drones that Moscow's forces are deploying in Ukraine.
Speaking to students in Tehran on Wednesday, Khamenei touched on Iran's drone program.
"On building advanced missile and drone equipment, (our enemies) had said they are photoshopped when their photos were published," Khamenei said. "Now they say that Iranian drones are very dangerous and ask why do you sell them."
Iran has denied supplying Russia with drones, even though the ones now used on the battlefield have been identified by Ukraine and Western nations as Shahed-136 drones, a triangle-shaped drone previously attributed to Iran.
The leader of Iran's paramilitary Revolutionary Guard previously hinted that Tehran had sold weapons to world powers as well.
___
KYIV, Ukraine — A senior Ukrainian official is accusing Russian-installed officials of staging a "propaganda show" by evacuating civilians from occupied Kherson, painting Ukraine as the aggressor.
Kherson, with a capital of the same name, is one of four regions illegally annexed by Russia last month. Local officials loyal to Moscow are telling civilians to leave the city of Kherson because advancing Ukrainian forces will shell residential areas.
The head of Ukraine's presidential office, Andriy Yermak, said Wednesday in a message on Telegram that "the Russians are trying to scare the people of Kherson with fake newsletters about the shelling of the city by our army."
Yermak said it was "a rather primitive tactic, given that the (Ukrainian) armed forces do not fire at Ukrainian cities."
___
MOSCOW — The top Russian military commander in Ukraine has acknowledged that his troops in the south have faced difficulties amid the recent Ukrainian counteroffensive.
Gen. Sergei Surovikin claimed in televised remarks Wednesday that Ukraine was pressing its offensive in the southern Kherson region without regard for casualties.
Surovikin claimed that the Ukrainian military could unleash massive rocket and artillery barrages on the city of Kherson as well as striking a dam in Kakhovka.
Surovikin described the situation for the Russian troops in the region as "quite difficult."
Russian war bloggers have interpreted Surovikin's statement as a warning about a possible Russian troop pullback from Kherson.
Ukrainian forces have relentlessly struck two main crossings across the Dnieper, making them inoperable and raising supply challenges for the Russian troops in Kherson and other areas on the right bank of the river.
___
Russian-installed authorities in occupied Ukraine reportedly are sending text messages urging residents of the southern city of Kherson to evacuate, amid the approach of Ukrainian forces.
Russia's state news agency RIA Novosti reported Wednesday that one message said "there will be shelling of residential areas by the Armed Forces of Ukraine," though there was no independent verification of that claim. The message promised "buses starting from 7 a.m. … to the left bank" of the Dnieper River, toward Russia.
Kherson, with a capital of the same name, is one of four regions illegally annexed by Russia last month. It was one of the first Ukrainian cities seized in Russia's Feb. 24 invasion.
The region's Moscow-appointed head, Vladimir Saldo, said Tuesday that Russian troops are building "large-scale defensive fortifications."
On Friday, too, Saldo had urged Kherson residents to evacuate to Russia. Russian authorities are promising free travel and accommodation to those who leave.
Russian-backed officials have said evacuations from occupied territories are voluntary. In many cases, the only route out is to Russia.
___
KYIV, Ukraine — Ukrainian officials said Wednesday that Russian shelling has killed at least six civilians and injured 16 over the previous 24 hours.
The Ukrainian president's office said the Russian army attacked nine southeastern regions of Ukraine using drones, rockets and heavy artillery. It said the attacks focused on the destruction of energy facilities.
In Kryvyi Rih, there is no electricity in several districts of the city, several pumping stations of local water utilities have been cut off power, resulting in water shortages, according to a report by the president's office.
Four cities were attacked around the Zaporizhzhia Nuclear Power Plant. Residential buildings in Nikopol, Marhanets, Chervonohryhorivka, located on the opposite bank of the Dnieper, were damaged.
The mayor of Enerhodar, Dmytro Orlov, said that as a result of the shelling in the city where the workers of the nuclear power plant live, electricity and water were partially lost.
Fighting for Bakhmut, in the eastern Donetsk region, is also continuing, with four cities along the front line under fire.
The Mykolaiv region was attacked by the Iranian kamikaze drones, of which The Ukrainian army shot down more than a dozen, preventing any damage.
___
KYIV, Ukraine — Russia's military is pressing on with its strategy of targeting Ukraine's energy infrastructure, leaving people without power in scores of cities and towns as the war approaches its eight-month milestone.
Shelling overnight Tuesday and into Wednesday morning in Energodar, the closest city to the Zaporizhzhia nuclear power plant, knocked out the power and water supply in some of the city's districts.
Early reports said the shelling damaged one of the city's electrical substations, Energodar's mayor Dmytro Orlov said.
Critical infrastructure was attacked with Russian S-300 missiles in the Zaporizhzhia region, according to Regional Governor Oleksandr Starukh.
Russian forces also heavily shelled two areas in the eastern Dnipropetrovsk region, taking out the power supply in several towns and villages.
In his nightly video address, Ukrainian President Volodymyr Zelenskyy urged people to use power sparingly.
"Anyone and everyone who follows this simple rule for peak hours is helping the entire country," he said.
___
KYIV, Ukraine — Russian ground forces have conducted limited attacks in border areas in the northern Kharkiv region.
Ukrainian forces on Wednesday reported repelling the Russian offensives in small settlements about 50 kilometers outside the regional capital, Kharkiv, close to the Russian border.
The small-scale ground attacks suggest that Moscow may "retain territorial aspirations" in the Kharkiv region despite taking massive losses in Ukraine's counteroffensive last month, according to analysts from the Institute for the Study of War, a think tank based in Washington, D.C.
"The nature of this limited incursion is unclear, but it may suggest that Russian troops are continuing offensive operations near the border," the analysts said. "Considering the current, constantly degrading state of Russian offensive capabilities in Ukraine, Russian troops are very unlikely to make any gains in this area."
___
KYIV, Ukraine — Ukrainian soldiers have shot down 13 Iranian-made drones over the southern Mykolaiv region.
That's according to the Ukrainian Air Force, which said Russian forces launched attacks in two waves on Tuesday night.
Ukrainian President Volodymyr Zelenskyy thanked Ukrainian soldiers who shot down some of the missiles and Iranian-made drones targeted to damage energy facilities.
Zelenskyy highlighted that the German IRIS-T system is already integrated into Ukrainian's air defense system and "showed itself well" in fending off Russian attacks.
___
Gen. Sergei Surovikin, commander of Russian forces in Ukraine, told reporters in Moscow on Tuesday that the situation in the southern Kherson region was "very difficult," and that civilians from some areas should be evacuated ahead of an expected Ukrainian offensive.
Surovikin alleged that Ukraine planned to attack infrastructure, including a dam at a hydroelectric plant.
"Therefore, first of all, the Russian army will ensure the safe, already announced departure of the population under the relocation program being prepared by the Russian government," Surovikin said.
As for the city of Kherson, he said, "I will say this again: It is already very difficult as of today."
It was one of the clearest acknowledgments yet by Russia that it was evacuating civilians in occupied territories because of advancing Ukrainian troops. Kherson is one of four regions illegally annexed by Russia last month.
Regional head Vladimir Saldo said Tuesday that residents of Berislav, Belozersky, Snigiryovsky and Alexandrovsky were to be moved across the Dnipro River, away from Russian troops building "large-scale defensive fortifications."
Saldo urged residents to stay calm and said they would "remain under the reliable protection of the Russian army."
On Friday, too, Saldo had urged Kherson residents to evacuate to Russia. Russian authorities promised free travel and accommodations to those who left. Russian-backed officials have said evacuations from occupied territories are voluntary. In many cases, the only route out is to Russia.
Russian-installed officials in the southern region of Kherson, one of four regions that Moscow illegally annexed last month, announced Tuesday there would be an "organized transfer of civilians" out of four towns ahead of an expected Ukrainian offensive.
Regional head Vladimir Saldo urged calm and said the Kherson residents would "remain under the reliable protection of the Russian army."
But he said the Russian army was building "large-scale defensive fortifications," and cited particular danger from flooding from a dam release. Residents of Berislav, Belozersky, Snigiryovsky and Alexandrovsky were to be moved across the Dnieper River, away from the fighting, he said.
Ukrainians troops have been pushing deeper into Kherson, and on Friday, Saldo had urged residents to evacuate to Russia. Russian authorities have promised free travel and accommodations to those who left.
The evacuation was called "voluntary" but there was no option presented to evacuate to Ukrainian-held territory.
---
After the Crimean bridge attack, there are plenty of theories but few real answers
Update RequiredTo play audio, update browser or 
Flash plugin
.
Black smoke billows from a fire on the Kerch bridge that links Crimea to Russia after an explosion on Saturday.
/ AFP via Getty Images
KYIV, Ukraine — Nearly a week after an explosion damaged a vital bridge in Crimea, Russian and Ukrainian authorities are still trading accusations and offering competing theories as to what and who caused the blast. But definitive answers remain elusive.
On Wednesday, Russia's Federal Security Service arrested eight men alleged to have taken part in an elaborate scheme to destroy the Crimean bridge. Investigators said Ukrainians, Russians and an Armenian camouflaged tons of explosives and shipped them to several countries before Saturday's attack. Russia says a driver with no previous connections to terrorism drove a truck bomb onto the bridge at a time to maximize damage.
But Mykhailo Podolyak, a top adviser to Ukrainian President Volodymyr Zelenskyy, says Ukrainian intelligence believes that Russian forces planned the attack as a pretense to escalate the war in Ukraine.
"The Crimea bridge incident gives the Russian military a convenient alibi for all of its defeats in southern Ukraine," Podolyak told Ukraine's national broadcaster.
Many theories, but little certainty
Credible theories abound in Ukraine and abroad about who is responsible for the Oct. 8 attack and how they did it. But, says Andrew Barr, an impact dynamics researcher at the University of Sheffield, "Despite all of the publicly available photos and videos, it's quite difficult to be certain about this."
Surveillance video posted by Russian media shows a single truck driving from mainland Russia toward Crimea before a flash of light swallows he bridge. Photos posted by independent media outlets show at least three collapsed road spans resting crookedly on piers in the shallow water.
New photos posted on social media Wednesday show bent support beams on the Russia-bound lanes as well. That side of the bridge reopened to traffic only hours after the blast.
Nick Waters, an analyst with the digital forensics firm Bellingcat, points out that the bridge's underside shows barely any blast damage, dismissing a popular Ukrainian theory that a special naval operation destroyed the bridge from below.
Unlike the bridge's unscathed bottom, satellite images released by Maxar Technologies show a blackened road top.
Soon after the explosion, Ukrainian experts quickly dismissed the notion that a Ukrainian missile had targeted the bridge, citing the 180-mile distance from Ukrainian-held territory as a technical limitation. The United States and other countries that supply weapons to Ukraine have refused to provide missiles that travel that far.
After Russian state media posted the government's evidence for a truck bomb — the alleged truck involved and a X-ray scan of its cargo — Ukrainian journalists pointed out that the two images showed different trucks.
Still, some military experts believe that a truck bomb is the likely culprit, even if those responsible for it are harder to determine.
"The damage is definitely consistent with an explosion in the center of a bridge span, as anything else would have caused damage to the pier," says Barr, who specializes in analyzing blast damage in war zones.
He says the Crimean bridge is designed to have a single section of road floating above several piers and detached from other sections. When one span falls into the water, it pulls several other spans with it.
Based on the ways the flames repeatedly shot out from the blast site, Barr also suggests that the truck was loaded with specialized compounds that burned hot enough to ignite a passing fuel train traveling on a parallel rail bridge, severely weakening it.
Mika Tyry, a retired military demolition specialist, told YLE, Finland's national broadcaster, that the flames and sparks are consistent with a thermite bomb. Russia's military has been known to use thermite, though Ukraine could have recovered the substance from unexploded Russian munitions.
"It's a successful attack on a guarded structure, with advanced explosives, and timed with the train," Barr says. "That's highly suggestive of a carefully planned military operation rather than a lone actor or other group."
Russian launched more strikes across Ukraine after the bridge attack
On Wednesday, Russian state media suggested that the Crimea bridge attack was coordinated from the United States to escalate what many Russians believe to be a proxy war against the West over Ukraine.
Ukraine has not taken credit for the blasts, though many in the country celebrated it as a Ukrainian victory due to the bridge's strategic and symbolic value to Russia.
Russian President Vladimir Putin launched a series of air strikes across Ukraine this week, saying it was a response to what he called "Ukrainian terrorism" on the Crimean bridge. Zelenskyy said more than 150 rockets and drones killed 20 people on Monday and Tuesday, knocking out essential services in more than half of Ukraine.
"That's not the kind of thing that the Russians can throw together in a couple days," National Security Council spokesperson John Kirby told CNN on Monday. "This was something not in retaliation, but was really much of a continuation of Putin's designs over the last several weeks to specifically target Ukrainian civilian infrastructure."
Copyright 2022 NPR. To see more, visit <a href="https://www.npr.org" rel="nofollow">https://www.npr.org</a>.
---
John H. Durham, the special counsel who investigated the Russia inquiry for more than three years, failed to develop any cases that resulted in convictions.
Send any friend a story

As a subscriber, you have 10 gift articles to give each month. Anyone can read what you share.

Give this articleGive this articleGive this article
Two F.B.I. agents have testified that Igor Danchenko, who became a paid confidential source, had provided the bureau with valuable information.Credit…Drew Angerer/Getty Images
WASHINGTON — Igor Danchenko, an analyst who provided much of the research for a notorious dossier of unproven assertions and rumors about former President Donald J. Trump and Russia, was acquitted on Tuesday on four counts of lying to the F.B.I. about one of his sources.
The verdict was a final blow to the politically charged criminal investigation by John H. Durham, the special counsel appointed by Attorney General William P. Barr three years ago to scour the F.B.I.'s inquiry into the Trump campaign's ties to Russia for any wrongdoing.
Mr. Trump and his supporters had long insisted the Durham inquiry would prove a "deep state" conspiracy against him, but despite pursuing various such claims, Mr. Durham never charged any high-level government officials.
Instead he developed two cases centered on the narrow charge of making false statements in outside efforts to scrutinize purported links between Mr. Trump and Russia. He crammed the indictments with extraneous material and insinuations that he thought Democrats had sought to frame Mr. Trump for collusion with Russia, though he did not charge any such conspiracy.
While the cases were not as expansive as Trump supporters had expected, they nevertheless provided more fodder for grievances about the Russia investigation. But once the cases reached courtrooms, they both crumbled.
The first accused Michael Sussmann, a cybersecurity lawyer with ties to Democrats, of lying to the F.B.I. when he shared a tip about possible cyberlinks between Mr. Trump and Russia. It ended in an acquittal in May.
And even before the jurors unanimously found Mr. Danchenko not guilty after deliberating for a day, the judge overseeing the trial, Anthony Trenga, took the extraordinary step last week of acquitting him on a fifth such count. The prosecution had failed to produce sufficient evidence for that charge to even go to the jury, he said.
Mr. Durham expressed disappointment in the verdict on Tuesday, issuing the same statement he had shared after Mr. Sussmann's trial in May. "We respect the jury's decision and thank them for their service," he said.
Stuart Sears, a lawyer for Mr. Danchenko, said the prosecution had been "a nightmare" for his client and his family.
"We have known all along that Igor Danchenko was innocent and we are glad the American public knows that now too," he said.
During closing arguments in both the Sussmann and Danchenko cases, defense lawyers pointed to evidence they said showed that Mr. Durham and his team had lost their way, ignoring signs of serious flaws in their cases because they were so intent on convicting someone.
"I submit to you that if this trial has proven anything, it's that the special counsel's investigation was focused on proving crimes at any cost as opposed to investigating whether any occurred," Mr. Sears said on Monday.
The prosecutorial results Mr. Durham produced in his three and a half years of investigating the Trump-Russia inquiry stood in contrast to what had been the highest-profile act of his career, when he led a special investigation of the C.I.A.'s Bush-era torture of terrorism detainees and destruction of videos of interrogation sessions.
At the time, Mr. Durham had set a high bar for charges and for releasing information related to the investigation. Throughout his 2008-2012 investigation, he found no one he deemed worthy of indictment even though two detainees had died in the C.I.A.'s custody, and he fought a Freedom of Information Act lawsuit to avoid disclosing to the public his findings and witness interview records.
The Danchenko trial is likely to be Mr. Durham's last courtroom act as a prosecutor. He is also expected to submit a final report to the Justice Department this year.
The original accusations against Mr. Danchenko, an analyst who was born in Russia and is now based in the United States, centered on two of his sources for the so-called Steele dossier, a compendium of political opposition research that asserted that Mr. Trump's 2016 campaign was conspiring with Russia.
The dossier was indirectly funded by Hillary Clinton's 2016 campaign and the Democratic National Committee. They paid a law firm, which paid a research firm, which in turn subcontracted to a firm run by Christopher Steele, a former British spy. Mr. Steele hired Mr. Danchenko to canvass contacts in Russia and Europe about Mr. Trump's dealings in Russia.
BuzzFeed published the document in January 2017, and it attracted widespread attention — particularly a salacious claim about a purported blackmail tape. But it became clear that it was not credible, in part because Mr. Danchenko himself told the F.B.I. that Mr. Steele had exaggerated his research, presenting uncorroborated speculation as fact.
Mr. Trump and his supporters have frequently — and falsely — sought to conflate the dossier with the official investigation into Mr. Trump's ties to Russia. But a 2019 inspector general's report established that the F.B.I. officials who opened the inquiry did not know about the dossier at the time, and the final report by the special counsel, Robert S. Mueller III, did not cite anything in it as evidence.
The F.B.I. did, however, include portions of the dossier in applications to wiretap a former foreign policy adviser for the Trump campaign. The inspector general report sharply criticized the F.B.I. for failing to tell the court in renewal applications that Mr. Danchenko had provided a reason to doubt the dossier's credibility.
Mr. Danchenko cooperated extensively with the F.B.I., testimony during the trial showed. At first, he discussed how he had learned the rumors while researching for Mr. Steele, and he later helped the bureau uncover unrelated Russian influence operations inside the United States. The bureau made him into a paid confidential informant.
But Mr. Durham accused Mr. Danchenko of lying to the F.B.I. about two things.
The first charge was denying that he had "talked" to Charles Dolan, a lobbyist with ties to Democrats, about material in the dossier. In a somewhat equivocal statement, Mr. Danchenko said he had not. But Mr. Durham uncovered an email in which Mr. Dolan had conveyed a minor claim about office politics in the Trump campaign that appeared in the dossier.
An F.B.I. agent testified that what Mr. Danchenko said was literally true, since they had communicated about that particular rumor in an email. The judge acquitted Mr. Danchenko of that charge last week.
The remaining four charges centered on Mr. Danchenko's assertions that he received a call in July 2016 from a man who did not identify himself, but who Mr. Danchenko thought might have been Sergei Millian, a former president of the Russian-American Chamber of Commerce. The two agreed to meet, but the man never showed, Mr. Danchenko said.
At the trial, prosecutors tried to cast doubt on whether any such call had happened and, if it did, whether Mr. Danchenko really believed at the time that it was Mr. Millian. But the evidence was insufficient to persuade the jury.
Mr. Durham's failure to secure convictions leaves his inquiry with only one courtroom achievement, but it was developed by different investigators.
Mr. Durham's team negotiated a guilty plea that resulted in no prison time for an F.B.I. lawyer who admitted doctoring an email used in a wiretap renewal application. But the inspector general's inquiry uncovered that problem, gathered the evidence, and made the criminal referral.
In his closing arguments on Monday, Mr. Durham denied that his appointment by Mr. Barr had been political and appeared to offer a broad defense of his investigation, asking the jury to revisit the origin of his work.
Mr. Mueller's report, Mr. Durham said, "concludes there's no evidence of collusion here or conspiracy. Is it the wrong question to ask, well, then how did this get started?"
While Mr. Mueller did not find sufficient evidence to charge any Trump associate in a criminal conspiracy with Russia, his report detailed "numerous links between the Russian government and the Trump campaign" and established that each expected to benefit from the other.
And the inspector general report already showed how the Trump-Russia investigation started: After Moscow hacked Democratic emails and gave them to WikiLeaks, a foreign diplomat shared that a Trump campaign adviser had previously bragged about an apparent offer by Russia to anonymously release information damaging to Hillary Clinton.
Both the Sussmann and Danchenko cases produced a parallel criticism of Mr. Durham and his team: that in pursuing charges, they damaged national security.
In the Sussmann matter, the Durham team brought intense pressure upon a group of cybersecurity experts who had generated the tip Mr. Sussmann conveyed to the F.B.I., which involved odd internet data they thought might suggest hidden communications between Mr. Trump and Russia. (The F.B.I. briefly looked at the data but dismissed their suspicions.)
Lawyers for the data scientists said internet experts routinely tell the government about online security threats, but that Mr. Durham's tactics would discourage people from speaking up in the future.
In the Danchenko matter, an F.B.I. agent who was Mr. Danchenko's handler testified that his network of contacts had offered unique insights into malign Russian influence operations the bureau had been unaware of. The agent, Kevin Helson, said the F.B.I. had established a squad based on Mr. Danchenko's reporting.
Mr. Helson added that other agents still ask him to relay questions to Mr. Danchenko, but he could no longer follow up with him.
"Because the special counsel indicted him?" Mr. Sears asked.
"Yes," Mr. Helson replied.
Charlie Savage reported from Washington, and Linda Qiu from Alexandria, Va.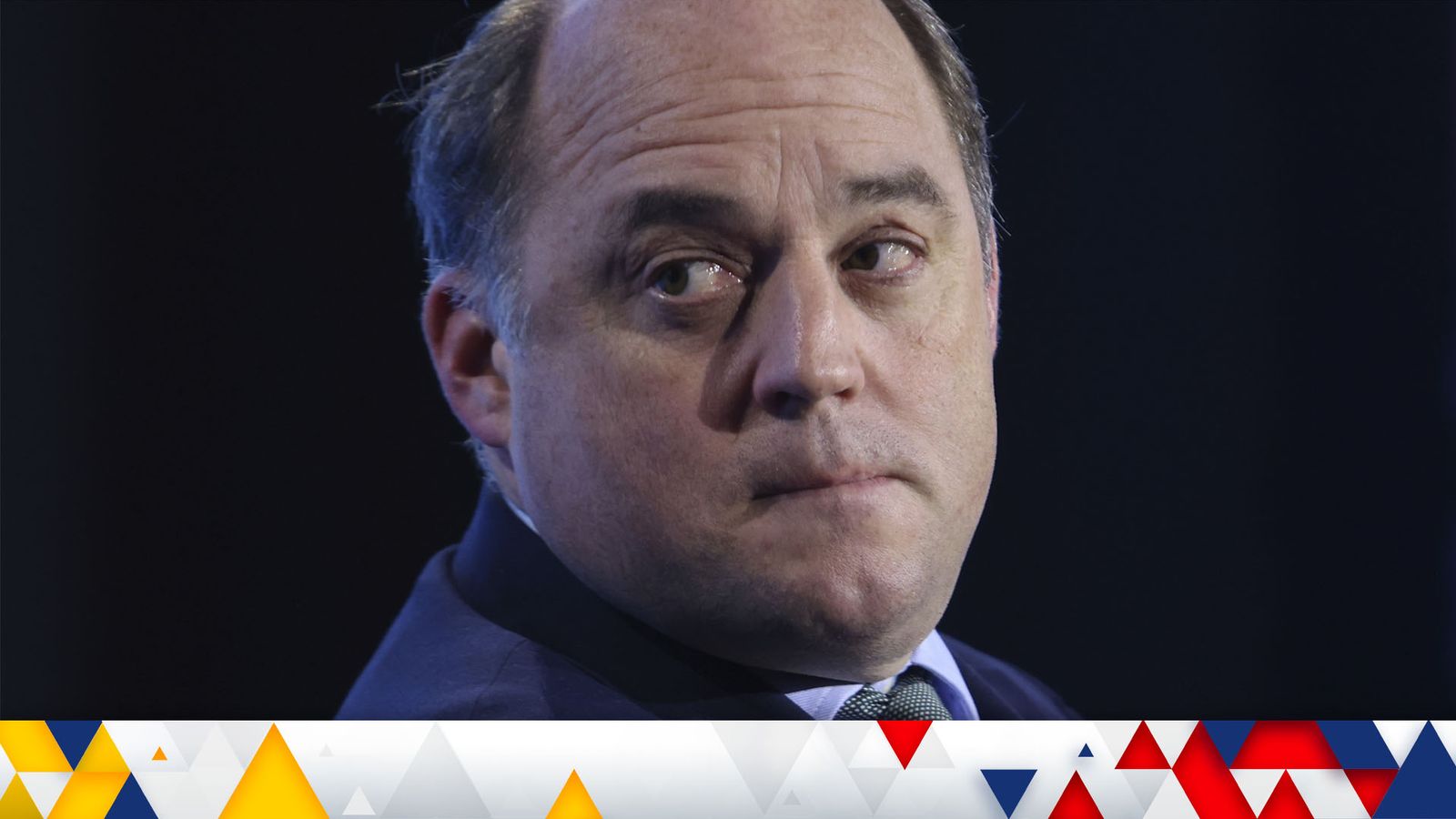 Defence Secretary Ben Wallace is on a hastily-arranged visit to Washington to talk with his counterpart and White House officials about "shared security concerns" including Ukraine and Russia, a source and an official said.
The secretive, last-minute nature of the trip and a comment by a second defence minister, James Heappey – who said the conversations that Mr Wallace would be having on Tuesday were "beyond belief" – suggested particularly sensitive and serious issues would be discussed.
It comes as the UK, the US and other NATO allies watch Russia's war in Ukraine closely, amid concerns that President Vladimir Putin may escalate his attacks even further, possibly even resorting to a nuclear strike as his forces lose ground to western-armed Ukrainian troops.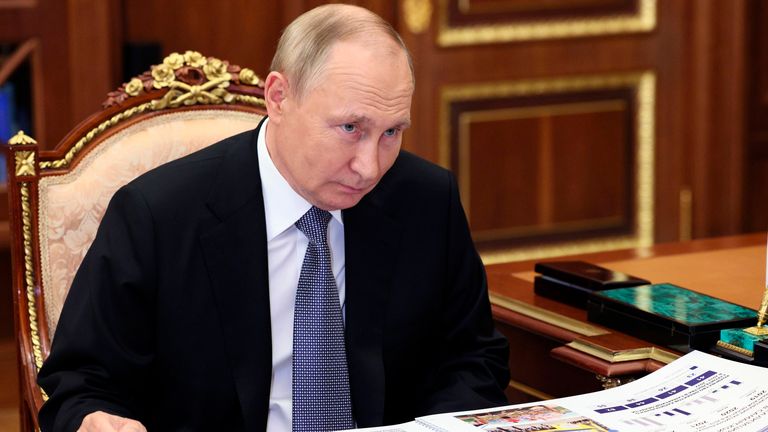 Image: Pic: AP
News blackout in southern Ukraine means 'something big is going on' – war latest
The UK defence source declined to offer any specific detail on the content of Mr Wallace's trip other than to say: "The defence secretary is in Washington DC to discuss shared security concerns, including Ukraine.
"He will be visiting his counterpart at the Pentagon and senior figures at the White House."
Brigadier General Patrick Ryder, the US Pentagon press secretary, offered a similar description: "He's here today to discuss the Ukraine situation and the US and UK joint efforts to support Ukraine, as well as to, again, reaffirm the transatlantic ties and co-operation that our two countries share when it comes to issues like Russia."
But Mr Heappey gave a sense that the discussions were particularly grave as he responded to questions on the UK political crisis during an interview on Kay Burley At Breakfast on Sky News.
"We here in the Ministry of Defence are doing a good job of keeping our nation safe at a time of incredible global insecurity," he said.
"My boss, Ben Wallace, is in Washington this morning having the sort of conversations that… beyond belief really the fact we are a time when these sort of conversations are necessary."
The News And Times Information Network – Blogs By Michael Novakhov – thenewsandtimes.blogspot.com